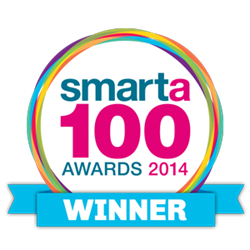 Rant & Rave is a UK tech powerhouse
Coventry (PRWEB UK) 8 October 2014
The awards, which are one of the UK's most well-known small business awards, were judged by an impressive line-up of high profile entrepreneurial judges.
Rant & Rave fought off tough competition from over 2000 companies all over the UK to be recognised for their innovative use of technology and named one of the country's most resourceful, original, exciting and disruptive small businesses.
Commenting on their inclusion in the Smarta 100, Nigel Shanahan, founder and Chairman of Rant & Rave says: "We are over the moon to be named in the prestigious Smarta 100. We are following in the footsteps of some fantastic companies and feel honoured to be recognised for doing what we love – using cutting edge technology to help our clients engage with their customers. While we've been in the industry for a long time now, we are constantly evolving, improving our technology and ensuring we're offering our clients the best communication platform possible."
In recent months, Rant & Rave, which Smarta describes as "a UK tech powerhouse" has adopted an aggressive business strategy to challenge the status quo of the customer engagement industry, taking on numerous new staff and having a dramatic re-brand from Rapide to Rant & Rave. They have also signed up a number of new clients including Papa John's, Ovo Energy, HomeServe and Amey, as well as developing sustained relationships with brands like Scottish Water, Daisy and DPD.
Ben Dowd, Business Director at O2 Business says: "I'm thrilled to see so many innovative British businesses disrupting established companies, and taking advantage of digital technology to grow and thrive. The range of inspiring ideas on show throughout the O2 Smarta 100 proves the entrepreneurial movement in the UK is increasing in strength, and we will no doubt see the UK economy grow as a result."
In total, 2014's Smarta 100 are generating revenues of over £70million a year and employing more than 640 people.
ShaaWasmund, the founder of Smarta says: "The O2 Smarta 100 always showcases what is truly disruptive, innovative and engaging in the UK small business sector and this year has been no exception. Picking a winner will be no mean feat from what is a truly outstanding list."
Voting is now under way to find the overall O2 Smarta Business of the Year, winning £10,000 courtesy of O2. This will be announced at The Smarta 100 Awards final on Thursday 14 November in London.
The shortlisted companies can be viewed at http://www.smarta.com/smarta100. To vote for Rant & Rave click here.
The judges
Ben Dowd (O2), ShaaWasmund (Smarta), Gary Turner (Xero), Paul Lindley (Ella's Kitchen), Eamon Fitzgerald (Naked Wines), Al Gosling (Extreme Group), Charlie Mullins (Pimlico Plumbers), Lynne Franks (B.Hive), Polly Gowers (Give As You Live), Martin McCourt (Montagu), Matt Thomas (Smarta)
About Rant & Rave

Rant & Rave (formerly known as Rapide) was launched in 2000 by Nigel Shanahan and is one of the UK's leading customer engagement specialists, counting half of the FTSE as clients.
Its multi-channel solutions let brands proactively communicate with and listen to the Voice of the Customer to manage and measure their experience. By providing solutions which are customer, not brand, centric Rant & Rave helps its clients to transform Ranters into Ravers and turn happy customers into lifelong advocates.
To find out more about Rant & Rave visit http://www.rantandrave.com
About Smarta
Smarta is the UK's leading online resource forstart-ups, small business owners and entrepreneurs.
Smartaalso operates Smarta Business Builder, a cloud-based toolkit offering accounts, website, email, legal docs and business planning software from a single web page from £20 a month.
Smarta was founded by ShaaWasmund and is backed by some of the UK's top entrepreneurs, including Deborah Meaden, Theo Paphitis, Michael Birch and Sir Richard Needham. At the heart of everything we do is a commitment to encourage more people to start and grow successful businesses.
Smarta is supported by RBS, Intuit, NatWest and Mishcon de Reya. http://www.smarta.com