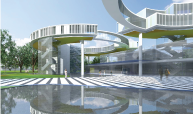 As an international leader in health care and medical research — and one that has proven that its model of care can be adapted to other countries and cultures — UPMC was the logical choice to be our partner in creating a world-class cancer facility
Pittsburgh, Pennsylvania (PRWEB) October 07, 2014
GK Klinika Group, a private health care company in the Baltic region, is partnering with UPMC for its help in developing and co-managing a new, 100-bed cancer hospital in Vilnius, Lithuania.
Scheduled to open in 2017 and funded by GK Klinika, the hospital is expected to care for patients covered by both private and public insurance to enhance the quality of oncology care throughout the Baltic region. Under the 15-year agreement, UPMC will assist with project planning, construction and training, and will co-manage all clinical and administrative activities after the facility opens.
The prime minister of Lithuania, Algirdas Butkevicius, will participate in a signing ceremony at UPMC's headquarters today. The Lithuanian government is actively working to encourage foreign business expansion in that country, particularly in its highly advanced life sciences sector, and expects that this partnership with UPMC will foster U.S.-Lithuania relations and geopolitical stability in the region.
"As an international leader in health care and medical research — and one that has proven that its model of care can be adapted to other countries and cultures — UPMC was the logical choice to be our partner in creating a world-class cancer facility," said Karapet Babaian, M.D., chief executive officer of GK Klinika and of Baltijos Medicinos Tyrimu Institutas (BMTI), the unit that is working with UPMC. "The scope and length of this agreement is a testament to our faith in this new partnership."
GK Klinika is one of the leading private clinics in the Baltic region, with more than 15 years of experience and a reputation for promoting innovative medical technology to achieve better patient outcomes.
"GK Klinika and UPMC share the same vision: to give patients access to the best cancer care in the world close to home. We look forward to working with our partner to make that dream a reality in Lithuania," said Charles Bogosta, president of UPMC's International and Commercial Services Division.
UPMC's wide-ranging assistance to GK Klinika will include hiring and training of staff in Pittsburgh and Vilnius, information technology planning, developing early cancer detection programs, conducting a genomics-testing pilot project and providing disease-specific treatment algorithms. UPMC physicians also will periodically provide consults related to advanced surgeries performed at the new hospital and second opinions via telemedicine.
The chief executive officer of the new hospital will be appointed by mutual agreement of both partners.
Starting with its partnership to create a transplant center in Italy 18 years ago, UPMC has expanded its international footprint to include operations or services in countries that now include Ireland, India, China, Singapore, Japan and Kazakhstan. Through its international growth and commercialization efforts with industry partners, UPMC is diversifying its sources of revenue, fueling economic development in its local communities, and strengthening its ability to recruit and retain the best clinicians to improve health care outcomes globally.
# # #
About UPMC
A world-renowned health care provider and insurer, Pittsburgh-based UPMC is inventing new models of accountable, cost-effective, patient-centered care. It provides more than $887 million a year in benefits to its communities, including more care to the region's most vulnerable citizens than any other health care institution. The largest nongovernmental employer in Pennsylvania, UPMC integrates more than 62,000 employees, more than 20 hospitals, 400 doctors' offices and outpatient sites, a more than 2.3-million-member health insurance division, and international and commercial operations. Affiliated with the University of Pittsburgh Schools of the Health Sciences, UPMC ranks No. 12 in the prestigious U.S. News & World Report annual Honor Roll of America's Best Hospitals — and No. 1 in Pennsylvania. For more information, go to UPMC.com.