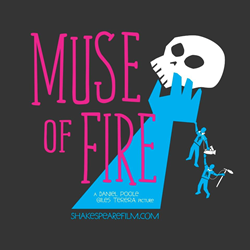 Dan Poole says: 'It was a most incredible adventure, one that hopefully has the power to affect and change, and engage people who otherwise wouldn't be watching a documentary about Shakespeare. Shakeapeare is for everyone!'
(PRWEB UK) 8 October 2014
This 83 min feature documentary, 'Muse of Fire', produced by actors and debut film makers, Dan Poole and Giles Terera focuses on their attempt to tackle Shakespeare, the greatest storyteller of all time. The film documents their four year journey around the world where they succeed in securing interviews with actors including James Earl Jones, Tom Hiddleston, Dame Judi Dench, Jude Law, Ewan McGregor, Sir Ian McKellen and director Baz Luhrmann, and attempt to demystify Shakespeare for the general public, actors and students around the world.
Their trip takes in Jude Law's Hamlet in Denmark, Prisons in Berlin, fighting their way to Baz Luhrmann in Hollywood, sending a cake to Dench to secure an interview and performing under the guidance of Mark Rylance (Actor and Founding Artistic director of the Globe Theatre).
The two friends entirely self-funded the film and their incredible journey has been one of the most eagerly anticipated films showing at Festivals over the last 2 years. With an earlier sell out WORLD PREMIERE as part or the Official selection for the Raindance International Film Festival, a critically acclaimed TV version airing on BBC television in 2013 and every single interview being hosted and soon to be available for free via the web, it promises to be a film that will run and run.
This October a global audience will have the opportunity to download and stream the documentary for the very first time, when it has its international digital release, through online distributor, 'The Movie Partnership'. It will be available exclusively on iTunes followed by Vimeo On Demand a week later. Subtitled in 11 languages including; Russian, Chinese, Japanese, French, German, Spanish and Portuguese, this launch gives the world an opportunity to see what up to now has been a hit on the international festival circuit and Television.
Dan Poole, one of the film creators quotes: 'It was a most incredible adventure, one that hopefully has the power to affect and change, and engage people who otherwise wouldn't be watching a documentary about Shakespeare. Shakeapeare is for everyone!'
To coincide with the release of the film, the 'MUSE Of FIRE Original Soundtrack Recording' (composed by award winning Giles Terera) will also be released on iTunes. The specially recorded promotional music video to one of the songs from the film, 'The Willow Song', featuring Dame Judi Dench will also be available online on the Muse Of Fire website; http://www.museoffirefilm.co.uk
STAR CHOICE', "This impressive documentary makes good on it's promise". OBSERVER
'CRITICS CHOICE' MAIL ON SUNDAY
'CRITCS CHOICE' SUNDAY TELEGRAPH
"Its goal is admirable and the results often illuminating" TIMEOUT
'Pick Of The Day', "Heartfelt and Uplifting" THE GUARDIAN
'Best Factual' TOTAL TV
"An Engaging Film" BBC RADIO TIMES "Riveting" THE INDEPENDENT
Featuring: Ian McKellen, Judi Dench, James Earl Jones, Jude Law, Ewan McGregor, Fiona Shaw,
Tom Hiddleston, Rita Dove, Harold Bloom, Ben Kingsley, Brain Cox, Mark Rylance, Ralph Fiennes, Baz Luhrmann and Sandy Foster.
WEB: http://www.museoffirefilm.co.uk IMDB: http://www.imdb.com/title/tt2395343/?ref_=fn_al_tt_1
Facebook: https://www.facebook.com/museoffire Twitter: museoffirefilm
Launched 13th October 2014 on itunes and 20th October on VIMEO On Demand
Soundtrack Album available at same time.