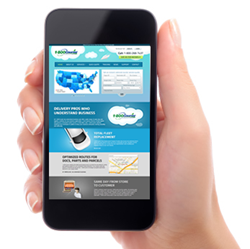 Atlanta, GA (PRWEB) October 08, 2014
1-800 Courier, a recognized leader in messenger, same-day delivery, and transportation services, announces same-day delivery tracking e-mail notifications. The Dallas courier makes the announcement in an effort to expand its' value-added services, promote customer loyalty and improve customer convenience. 1-800 Courier pursues to be the best choice for courier logistics and same-day delivery throughout the US.
1-800 Courier tracking e-mail notifications assists the courier to offer a high level of convenience within its' customer service experience not expected within the courier industry. With the 1-800 Courier advanced e-courier ordering system, customers receive an e-mail notification at all points of the courier order, including the initial order, time of pick up and time of delivery. Order confirmations are e-mailed to every customer immediately once the request is processed. Within the confirmation, the customer will receive a reference number to identity their order as well.
The first tracking e-mail notification will be sent to inform the customer of the pick-up status with the time details the pick up occurred. The second e-mail notification will include the proof of delivery. The proof of delivery notification will notify the customer their package or freight has been delivered, the exact time of delivery and who signed for the item.
The e-mail notifications are for all customers that place their orders via phone or online. For online orders, customers have the ability to insert their e-mail address for the e-mail notifications they desire to receive, whether it is the order, pick-up, and/or delivery tracking notifications. When the customer is placing their order via phone, the customer service specialist will request the e-mail address for notification purposes only. This enables 1-800 Courier customers to enjoy automated package tracking and peace of mind, without inhibiting their daily operational functions.
1-800 Courier is a premier same-day courier offering transportation, messenger and distribution services. From small packages to palletized freight, 1-800 Courier delivers fast. As a leader in the courier industry, the goal of 1-800 Courier is to perform optimal courier logistic solutions and superior customer service every time. 1-800 Courier provides same-day delivery successfully for over 1,500 clients, including Fortune 500 companies nationwide.