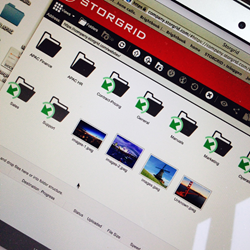 "Storgrid is the most advanced EFSS service available in the marketplace today," said Rob Verbeek, Director of WideXS a cloud service provider
Santa Clara, CA (PRWEB) October 08, 2014
Storgrid, the innovator that enables the securely sharing and controlling of files from anywhere while uniquely leveraging existing IT infrastructure, today announced the latest version of their Enterprise File Sync & Share (EFSS) software. Storgrid Enterprise File System (EFS) 2 introduces encryption in combination with hijack filtering and the multi-rights access to files in order to meet privacy and security expectations of enterprise customers. Storgrid also introduced support for the latest Microsoft and Linux platforms including backward compatibility for customer investment protection.
"Today the majority of corporate data remains on premise or in a private cloud," said Rob Christ, CEO of Storgrid. "Yet many corporate employees utilize consumer apps to share confidential and sensitive information. We foresee the fastest growth for EFSS will be with enterprises leveraging their own solutions to regain control over corporate data. Storgrid EFS 2 enables this market dynamic for the EFSS market currently at $1B."
Storgrid EFS 2 additionally offers:

Transparent access to any supported file serving environment where the data is available as a genuine company share for easy access and control utilizing existing security and authentication policies with Active Directory (AD), LDAP, SSL and WebDAV in a simple 6-step process to provide secure information to all connected clients with authorization.
Application Program Interface (API) for company branded solution that can be customized for each customer environment with a presentation layer on top of file services.
Transparent and secure access from apps for tablets and smartphones and other mobile devices for the following platforms:
o Apple iOS 7 and later
o Google Android 4.0 and later
o Microsoft Windows Phone 8.0 and later

Transparent and secure access and management from browsers for desktops, notebooks, convertibles, tablets, and smartphones for the following platforms:
o Apple iOS 7 and later
o Apple Mac OS X 10.7 and later
o Google Android 4.0 and later
o Microsoft Windows 7 and later
o Microsoft Windows Phone 8.0 and later

Support for existing Microsoft- and Linux-based server platforms including the following:
o Linux: Ubuntu 14, RedHat 4, CentOS 5, or Suse 13 and Java 7
o Microsoft: Windows Server 2008 R2 or 2012

Encryption in combination with hijack filtering for privacy protection.
Multi-rights access to files. The view only option of the original files remain behind the firewall with permission controls for file access and added security.
Storgrid software has compelling value as it is easy to deploy, customizable to fit any customer's environment and no migration is ever needed as the software connects to the data repositories and files on the existing infrastructure and remains there. The Storgrid software solution has the flexibility to be deployed on premise or for hosting companies that would like to build their own, white labeled, EFSS service.
"Storgrid is the most advanced EFSS service available in the marketplace today," said Rob Verbeek, Director of WideXS, a cloud service provider. "We offer the solution from a private cloud. For organizations that prefer to keep their data completely at their own location, these can also be placed locally. They may also opt for a hybrid model. In that case, the data is replicated locally in the hosted Storgrid environment."
Storgrid software provides extensive reporting capabilities to address corporate governance, regulatory mandates for privacy and data security and company policies for lifecycle management of all information assets.
"Hyundai BS&I is eagerly awaiting the release of the new Storgrid software. With all the additional features incorporated, we expect that it will satisfy our customer's requirements," said Seong-Eun Mun from Hyundai BS&I, part of Hyundai Group Family Company. "Keeping customer data on site and under strict control is essential in our markets."
Storgrid EFS 2 is available beginning October 7th 2014. Licensing is available on a per user basis or for service providers on a Service Provider Licensing Agreement (SPLA).
ABOUT STORGRID
Storgrid is a secure software platform for creating enterprise file sync and sharing solutions that protect information when workers use mobile devices or distribute files to others. Information uniquely remains on your existing servers and storage and authorized users access files through secure apps and browsers with the flexibility of using any desktop, tablet or smartphone device. Unlike hosted alternatives, the Storgrid software-based platform uses existing infrastructure for superior return on investment (ROI). Storgrid's software has been developed over the last decade and launched to the market in 2011. Storgrid is a privately held company founded in The Netherlands and has a global presence with regional offices in Santa Clara CA, Hong Kong and The Netherlands.
ADDITIONAL RESOURCES