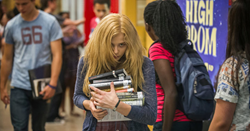 Slut shaming is running rampant in our society. It needs to stop now before this hate wave against females takes more lives.
London, UK (PRWEB) October 08, 2014
In an internet world filled with Cyber Bullies, it is time to realize what slut shaming online is doing to girls and women all over the world. NoBullying investigates the spread of slut shaming in today's world in an article released today.
Slut shaming is a word that has become a buzz word lately because of the different places it has been seen and used. Sometimes the word has shown up on the Internet in relation to some of the posts that people have made on the Internet, other times it shows up in schools as the word "slut" is used to describe more than one type of girl.
However, since the word is still new there are some people who have never heard of slut shaming before and do not even know what this is or how it is going to impact their life. To help people learn more, though, they will need to know the definition of slut, what the slut shaming actually means, the different ways the shaming is impacting the lives of the ladies who are being impacted, but also how an anti slut shaming movement is coming out in defense of the women and sometimes men who are dealing with the humiliation of being shamed.
Women are being targeted online and called sluts, which is a form of online violence, for a variety of actions and appearances. Women are called names because of their bodies, behavior and sometimes for no reason at all.
From Celebgate to SlaneGirl, women are famous or anonymous are being slut shamed in outpouring of hate words directed towards them. It is expected of the women involved in these hate filled waves online to go into hiding and not to answer back. The internet world is filled with examples of women facing even more turbulent times for their choice to stand up to slut shaming and some can't even face it, and decide to end their lives, an example of this is the story of young Rebecca Ann Sedwick who was literally cyberbullied to death.
The article concludes with facts that prove Slut Shaming is one of the ways in which violence and discrimination against women is evident.
Ciaran Connolly, Co Founder of NoBullying, notes that these questions need more research on the parents' side. There is no one article or one resource that could parents at ease when it comes to their children's safety in school and online.
Connolly says "Slut shaming is running rampant in our society. It needs to stop now before this hate wave against females takes more lives."
He added that parents and teachers should make a point to educate the younger generations about the sad outcome of bullying online and offline. According to Connolly, it is quite imperative to press for more firm laws condemning all acts of bullying and harassment.
NoBullying.com features many pages dedicated to parents, teens, teachers, health professionals as well as posts related to cyber safety and the latest news about law making concerning curbing Bullying worldwide as well as inspirational Bullying Poems and famous Bullying Quotes.
The website regularly updates its bullying statistics and cyber bullying statistics as it is essential to understand how widespread the bullying epidemic is. It also regularly runs cyber bullying surveys and questionnaires to get recent updated statistics on everything related to cyberbullying.
He also added that anyone suffering from bullying in any form or way can always find advice and help on the NoBullying website – but if anyone is suffering from severe bullying or cyber bullying, the best thing is to talk to someone locally – a parent, teacher or local organization that has been set up to help with specialized councilors to deal with this topic.