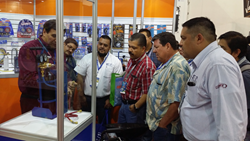 I come to the Expo, specifically to see Uniweld. - Raul Rios, Sistemas de Hielo Oslo
Ft.Lauderdale, FL (PRWEB) October 07, 2014
HVACR technicians welcomed the product launch of EZ Turn™ hoses in Mexico, in addition to the all new NitroVue™, providing HVACR technicians with simplification for purging and brazing with nitrogen. Among additional favorites receiving high marks from visitors to Uniweld's booth were the Cap'n Hook® multi flame brazing tips which provide even wrap around heat when brazing, and the Nitrogen Sludge Sucker®Sludge Blaster® Kit. Technicians appreciated the portability of the Nitrogen Sludge Sucker®Sludge Blaster® Kit, whereas many others were enlightened to learn about the multiple functionality of the kit.
Raul Rios of Sistemas de Hielo Oslo gave a big thumbs up to Uniweld for their innovative products. "I come to the Expo, specifically to see Uniweld," he stated. Several technicians joined in his enthusiasm when they took the EZ Turn™ Challenge. The EZ Turn™ has a thrust bearing that reduces friction so the service hose can be easily connected to the access fitting while under pressure. Visitors to the booth were greeted by Richard Apodaca, Director – International and Allan Del Barrio, Graphic Designer. Supporting Uniweld, were some of Uniweld's authorized distributors, such as REACSA, GALPA and ROSAN. This made for a unique combination. When visitors to distributor's booths wanted more information on Uniweld products, they were directed to Uniweld's booth. When visitors to Uniweld's booth wanted to know where to purchase the product, they were directed to the booths of Uniweld's authorized distributors. Richard Apodaca stated: "This created unique synergy. Visitors were connected immediately with their local purchasing contact on the trade show floor."
The successful AHR EXPO MEXICO finished in grand old fashion with Mariachis parading down the exhibition aisles as they played their tunes to the delight of exhibitors and visitors alike. Uniweld looks forward to participating in next year's "Special Edition" of the AHR EXPO MEXICO which will be held for the first time in the city of Guadalajara. We look forward to seeing you next year in the city of Mariachis and Tequila October 20 – 22, 2015.