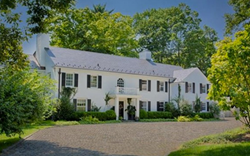 Pompano Beach, FL (PRWEB) October 08, 2014
Michael Douglas and Catherine Zeta-Jones' Bedford, New York home is for sale and featured this week on the Top 10 Homes Spotlight at TopTenRealEstateDeals.com.
"Michael Douglas & Catherine Zeta-Jones"
Academy Award winning celebrity power couple, Michael Douglas and Catherine Zeta-Jones, not only share a passion for acting, but also share the same birthday, even if they're 25 years apart. Michael, eldest son of famed actor Kirk Douglas, who is best known for his roles on TV's "Streets of San Francisco" and in films like "Fatal Attraction," has received an Academy Award as Best Producer for the film "One Flew Over the Cuckoo's Nest" and Best Actor for "Wall Street." He recently won an Emmy for his portrayal of Liberace in HBO's "Behind the Candelabra."
Catherine Zeta-Jones was bitten by the acting bug early. Born and raised in Wales, she made her acting debut at age 14, playing the lead in "Annie" at Swansea, Wales Grand Theatre. Even though she has been a Hollywood star for some years, Catherine has always remained close to her roots in Wales where she has a home. Keeping Oscar-winning in the family, Jones won an Oscar for her role as Velma Kelly in the film version of "Chicago," and has been nominated for awards in almost every role she's played.
Douglas and Zeta-Jones met in France and married in 2000. As with many big celebrities, they have multiple homes with one in Bermuda, one in Majorca, the home in Wales, a ski home in Colorado and two in New York - a Manhattan apartment and a lovely estate now for sale in Bedford. The Bedford home was where Catherine lived during the couple's recent marital separation that ended in April when the couple reunited at the New York premiere of Steven Soderbergh's "The Library."
Catherine purchased the 1930's era colonial-style home in 2010 for $5 million. Located about an hour from New York City, the white painted brick colonial is sited at the end of a long driveway on 5.7 acres surrounded on three sides by a horse farm and pastoral views. The home is about 6,600 square feet with six bedrooms, six baths, extra-large center hallway entry, family room, music room and office. Dark hardwood floors throughout the home bring everything together. Most of the home was recently renovated adding a master closet suite, a guest house with gym and sauna, and state-of-the-art gourmet kitchen. Outside the home are big old trees, flower gardens and ivy, several patios, pool and greenhouse.
Michael Douglas and Catherine Zeta-Jones are selling their New York country retreat for $8.1 million. The listing agency is Siano & Company in Bedford, New York.
Visit TopTenRealEstateDeals.com for more celebrity, historic, famous and spectacular homes.