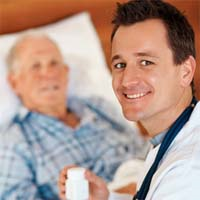 ...objective tumor response or stable disease rate [was] 90% by independent radiological review.
Raleigh, NC (PRWEB) October 09, 2014
Scientists say the monoclonal antibody amatuximab may improve outcomes for mesothelioma patients on standard chemotherapy. Click here to read Surviving Mesothelioma's newly-posted article on the new study.
Researchers with the National Cancer Institute administered amatuximab along with cisplatin and pemetrexed to 89 pleural mesothelioma patients from 26 centers with promising results.
"Amatuximab with pemetrexed and cisplatin was well-tolerated with objective tumor response or stable disease rate of 90% by independent radiological review," writes lead investigator Raffit Hassan, MD.
In addition, the study in Clinical Cancer Research found that mesothelioma patients on the combination treatment had a median overall survival of 14.8 months, with a third of patients still living at the time of analysis.
"While this is far from a cure for this devastating cancer, these results are encouraging given the fact that many mesothelioma patients do not live more than a year after diagnosis," observes Surviving Mesothelioma Managing Editor Alex Strauss.
You can read more about the orphan drug amatuximab and the new study in Orphan Drug Improves Mesothelioma Survival in Phase II Trial, now available on the Surviving Mesothelioma website.
Hassan, R et al, "Phase II clinical trial of amatuximab, a chimeric anti-mesothelin antibody with pemetrexed and cisplatin in advanced unresectable pleural mesothelioma", September 17, 2014, Clinical Cancer Research, Epub ahead of print, http://clincancerres.aacrjournals.org/content/early/2014/09/16/1078-0432.CCR-14-0804.abstract
For nearly ten years, Surviving Mesothelioma has brought readers the most important and ground-breaking news on the causes, diagnosis and treatment of mesothelioma. All Surviving Mesothelioma news is gathered and reported directly from the peer-reviewed medical literature. Written for patients and their loved ones, Surviving Mesothelioma news helps families make more informed decisions.