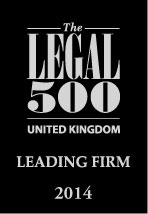 (Duncan Lewis) are always striving to maintain our quality and we continue to be committed to helping the most vulnerable people in society; protecting them for unlawful decision making by the State.
London, United Kingdom (PRWEB UK) 8 October 2014
Following the release of the 2014 edition of Legal 500 UK Directory Awards, Duncan Lewis Solicitors are pleased to announce that they have been ranked as a Legal 500 recognised leading law firm in the practice area of Public & Administrative law for its depth of experience in Immigration & Civil Liberties Judicial Review claimant cases throughout London.
Director of Immigration and Immigration Judicial Review claimant specialist, Toufique Hossain, praised in the recent Legal 500 Immigration edition as 'very committed to his clients' added; "I am very happy that Duncan Lewis continues to be recognised for our work in both Immigration and Public law areas. We are always striving to maintain our quality and we continue to be committed to helping the most vulnerable people in society; protecting them for unlawful decision making by the State."
Duncan Lewis holds a significant judicial review practice representing vulnerable claimants in the fields of immigration & human rights, crime, prison law, mental capacity and social welfare. The company specialises in all immigration claimant judicial review matters and costs litigation but with a niche focus on unlawful immigration detention cases with high net claims for damages; prison law claimant; immigration removal cases and challenges involving community care issues and the provision of social welfare services. It handles public law challenges against decisions made by bodies such as: Children & Family Court Advisory Support Service (CAFCASS); Criminal Case Review Commission; HM Prison Service; Metropolitan Police; National Asylum Support Service; NHS Trusts; Probation Service; UK Border Agency and Tribunal Decisions that cannot be challenged upon appeal. In 2013, the company expanded its practice to include judicial review actions of regulatory authorities and NHS trusts.
For nearly 30 years the Legal 500 has been a worldwide client's guide to the best law firms and lawyers, which analyses the capabilities of law firms worldwide with a comprehensive research programme heavily focused on peer and client feedback.
The recent edition of Legal 500 also acknowledges Duncan Lewis as a top-tier leading law firm for its Immigration & Asylum practice in Wales, whilst the firm's London offices were also recommended as a leading law firm for its work in Family & Matrimonial matters; Crime; White-Collar Fraud; Business Immigration; Human Rights Immigration; and Social Housing. Within these departments, 8 of the firm's lawyers have received individual recommendations are: Vinita Templeton (Immigration Human Rights); Adam Tear (Immigration Human Rights); James Packer (Immigration Human Rights; Public Law), Toufique Hossain (Immigration Human Rights & Public Law), Vicash Ramkissoon (Business Immigration) Aina Khan (Family & Matrimonial); Hardeep Dhaliwal (Fraud – white collar crime) and Subbiah Sivapunniyam (Social Housing).
About Duncan Lewis
Duncan Lewis, established in 1998, is the largest civil legal aid practice in the UK and one of the country's fastest growing firms of solicitors, serving both corporate entities and private individuals from offices across London and throughout the UK. A recommended leading law firm by Law Society Lexcel and Legal 500, Duncan Lewis represents over 22,000 clients per year, employs over 500 members of staff and was the first law firm in the UK to achieve the Investors in People Gold Quality Standard Mark in 2009. Established areas of law are: business immigration, child care, civil liberties, clinical negligence, community care, crime and fraud, dispute resolution, debt and insolvency, employment, family and divorce, housing, asylum and immigration, litigation, mental health, personal injury, prison law, professional negligence, public law and administrative law, regulatory matters and welfare benefits.