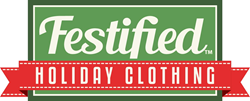 Everyone who wants to be tacky should get to be tacky, whatever the occasion...
Ashburn, VA (PRWEB) October 08, 2014
It's that time of year again, the time to pick pumpkins and turkeys, costumes and side dishes. Festified has tacky sweaters to dress the Halloween and Thanksgiving enthusiasts in your life.
"The majority of 'festive' sweaters on the market feature Christmas themes," said John Kaplar, Festified's Founder. "We, at Festified, think that these other holidays, Thanksgiving and Halloween, are underserved. Everyone who wants to be tacky should get to be tacky, whatever the occasion."
Get Spooky
This new line of spooky Halloween gear from Festified includes a sweater dress, a sweater vest, and sweggings — that's sweater + leggings. Adorned with alternating lines of pumpkins and bats, these black and orange garments are sure to be the ugliest Halloween sweaters on the block! The Spooky Halloween Sweater Dress and the Spooky Halloween Sweater Vest are made with a soft, high-quality acrylic/wool blend; as for the Sweggings, which are thicker and softer than normal leggings, they're made with a specific combination of viscose, nylon, acrylic, polyester, and angora designed to keep the wearer's legs warm on the coldest Fall days.
Why be a turkey when you can be a trendsetter?
Festified now offers a Lighted Thanksgiving Turkey Sweater for men! LED lights that rise as steam from an appliqued turkey are controlled via a battery-powered remote that fits perfectly into an embedded pocket inside the sweater. Available in sizes that range from small to 4XL, this sweater is sure to be a conversation starter around the dinner table this Thanksgiving.
For more information about these, and Festified's other tacky offerings, visit http://www.festified.com.
About Festified
Festified, formerly named 'Skedouche', was founded by John Kaplar in 2009 after many disappointing Christmases where, since all the major retailers failed to carry "festive" sweaters for men, he was forced to wear ill-fitting ladies sweaters. John designed the first tacky sweater collection that summer and built the company from the ground up. The website opened in November 2009 with an overwhelming response from customers and the media. Since then, Festified has grown considerably, and sell thousands of products every year. The retailer is committed to providing excellent customer service, as well as a high quality and enjoyable shopping experience. Festified has been featured on Late Night with Jimmy Fallon, The Tonight Show, The View, The Chew, and Community.