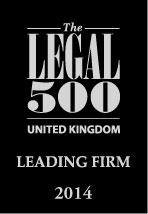 This continued recognition from Legal 500 illustrates that our housing lawyers are of a high calibre and each have a passion to make a difference with legal expertise to deliver a professional and knowledgeable service to clients across London and the UK
London, United Kingdom (PRWEB UK) 8 October 2014
Following the release of the 2014 edition of Legal 500 UK Directory Awards, Duncan Lewis Solicitors are pleased to announce that they have been recognised as a Legal 500 recognised leading law firm in London for its Housing Law practice with Director and Joint-Head of Department Subbiah Sivapunniyam receiving individual recommendation. Legal 500 2014 comments that Duncan Lewis is the largest supplier of legal aid services to social tenants in England & Wales with a London team that combines a significant court presence throughout London with the ability to provide legal advice and assistance telephone and online.
Director of Duncan Lewis, Councillor Jamille Mohammed heads the company's housing law department with the recommended Subbiah Sivapunniyam, added; "This continued recognition from Legal 500 illustrates that our housing lawyers are of a high calibre and each have a passion to make a difference with legal expertise to deliver a professional and knowledgeable service to a broad mix of clients across London and throughout the UK".
Duncan Lewis' Housing Law department assists both landlords and tenants across London and throughout the UK. It is a significant presence across County Court Possession Duty Schemes throughout London and has a niche specialism in defending social tenants in possession and unlawful eviction cases. The department represents clients in all proceedings including reviews, appeals and judicial review claimant matters relating to homelessness, disrepair, succession for tenants and neighbourhood disputes against local authorities. A significant proportion of the company's housing clients are vulnerable with issues ranging from learning difficulties, terminal illnesses and/or severe mental health conditions, victims of torture, trafficking or victims of domestic abuse; each referred to Duncan Lewis from a variety of sources. For clients that are unable to travel, the company also specialises in non-face-to-face advice and assistance by telephone or online.
For nearly 30 years the Legal 500 has been a worldwide client's guide to the best law firms and lawyers, which analyses the capabilities of law firms worldwide with a comprehensive research programme heavily focused on peer and client feedback.
The recent edition of Legal 500 also acknowledges Duncan Lewis as a top-tier leading law firm for its Immigration & Asylum practice in Wales, whilst the firm's London offices were also recommended as a leading law firm for its work in Family & Matrimonial matters; Crime; White-Collar Fraud; Business Immigration; Human Rights Immigration; and Public law immigration and civil liberties judicial review work. Within these departments, 8 of the firm's lawyers have received individual recommendations are: Vinita Templeton (Immigration Human Rights); Adam Tear (Immigration Human Rights); James Packer (Immigration Human Rights; Public Law), Toufique Hossain (Immigration Human Rights & Public Law), Vicash Ramkissoon (Business Immigration) Aina Khan (Family & Matrimonial); Hardeep Dhaliwal (Fraud – white collar crime) and Subbiah Sivapunniyam (Social Housing).
About Duncan Lewis
Duncan Lewis, established in 1998, is the largest civil legal aid practice in the UK and one of the country's fastest growing firms of solicitors, serving both corporate entities and private individuals from offices across London and throughout the UK. A recommended leading law firm by Law Society Lexcel and Legal 500, Duncan Lewis represents over 22,000 clients per year, employs over 500 members of staff and was the first law firm in the UK to achieve the Investors in People Gold Quality Standard Mark in 2009. Established areas of law are: business immigration, child care, civil liberties, clinical negligence, community care, crime and fraud, dispute resolution, debt and insolvency, employment, family and divorce, housing, asylum and immigration, litigation, mental health, personal injury, prison law, professional negligence, public law and administrative law, regulatory matters and welfare benefits.