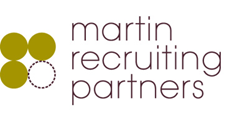 Roswell, Georgia (PRWEB) October 13, 2014
Martin Recruiting Partners, Restaurant Management Recruiting, is pleased and excited to announce its now under new leadership/ownership. Restaurant recruiting veteran Heath Campbell assumed the role of owner with his recent purchase of the business. Founded in 1992 by Ray Martin, Martin Recruiting Partners is a recruiting firm, focusing on recruitment and placement of all types of professionals. After several years of leading and training the recruitment team, Mr. Campbell recently purchased this seasoned recruiting firm from its second owner David Kanne.
With the continued growth and upward trending of the recruiting industry, Heath and the team of recruiters at Martin Recruiting Partners feels confident that their expertise in sourcing, interviewing and presenting of quality candidates to their national client base will continue to thrive. After graduating from Oklahoma State University, where he also taught, Heath developed his management career in various service operations. The entire team at Martin Recruiting Partners continues its commitment to helping people at all levels move their careers forward in their respective industry. The entire team at MRP is enthusiastic about the change of ownership, and looks forward to being part of continued partnership with the many long term client partners.
Heath's outlook for growth is positive, and he anticipates the addition of other avenues of recruiting as the future unfolds. He comments that, "Groundwork is already being laid for expanding our services beyond our current recruiting avenues. More and more, companies are realizing the value and benefit of spreading the necessary load of sourcing candidates to search partners such as Martin Recruiting Partners, where essentially we become an extension of their existing recruiting efforts." He adds that, "the time saving MRP brings to its clients is only the beginning. By allowing our team to carry the load of sourcing and interviewing of candidates, companies also enable their field operators to keep their efforts focused on running operations…where their efforts should be."
Additionally, client response is positive. Brian Hood, VP of Restaurants of America expresses, "Congratulations to Heath and the team at Martin Recruiting Partners, and we look forward to continued long term partnership with MRP." Also Micah Campbell, Managing Director of Armada Consulting a cost and profitability analytics consulting firm mentions, "Partnering with MRP has been outstanding over the last couple of years and we look forward to continuing that partnership with Heath as the new owner."
Heath assumed control of Martin Recruiting Partners beginning in September 2014. For questions about how Martin Recruiting Partners can facilitate your hiring needs, reach Heath at 678-507-5100. To learn more about the company; please visit their website at http://www.mrpnow.com/.