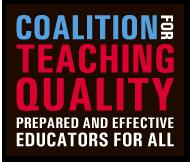 Washington, D.C. (PRWEB) October 07, 2014
More than 100 national, state and local civil rights, disability, rural, youth, higher education, principal and education advocacy organizations under the banner of the Coalition for Teaching Quality went to Capitol Hill today to urge Congress to push a comprehensive roadmap for ensuring students in every community have access to well-prepared and effective educators. At House and Senate briefings the coalition will press the importance of profession-ready and effective teachers and principals as key to advancing educational opportunity.
"One of the most critical investments we can make is in high-quality education for our children, and that starts with a well-prepared teacher in every classroom," said Senator Patty Murray, D-WA, who is hosting the Senate briefing. "I'm proud that Seattle is leading the way with its residency model, and look forward to working with my colleagues to ensure teachers across the country have the resources and support they need to be prepared for the classroom."
The coalition has been pushing for policy solutions that will address the reality that students in many high-need schools do not have the same type of access to great educators. It has also been urging policymakers to move beyond a narrow focus on educator effectiveness, and instead to embrace a comprehensive vision of teaching quality that begins in preparation and extends to leadership roles.
(A full list of coalition members is available here.)
Releasing its "Excellent Educators for Each and Every Child: A Policy Roadmap for Transforming the Teaching and Principal Professions," the group urges measures to strengthen the recruitment pipeline for teachers and principals; build robust preparation programs that ensure that future educators are profession-ready; and cultivate opportunities for continuous growth and leadership.
In the first of a series of reports tied to the roadmap, "Profession-Ready Teachers and Principals for Each and Every Child," the coalition outlines four steps that future teachers must take to ensure that they are ready to step into the classroom as a "teacher of record". The steps include completing a teaching residency under the guidance of an accomplished teacher and demonstrating beginning proficiency of the skills and knowledge needed for classroom instruction through a valid and reliable performance assessment, such as edTPA.
For principals, the steps to becoming profession-ready include earning an advanced degree and demonstrating a record of success as a teacher, completing a one-year residency program under accomplished school leaders, and successfully completing a performance-based assessment for principals.
About the Coalition for Teaching Quality (http://www.coalitionforteachingquality.org)
The Coalition for Teaching Quality represents a broad cross-section of over 100 local, state, and national organizations representing civil rights, disability, parent, student, community, and education groups. Formed in reaction to a provision that allowed teachers in training to be identified under federal law as "highly qualified" and concentrated in low- income, high need schools, this group has developed a new, comprehensive framework for teaching quality that will allow the nation to put a fully-prepared and effective educator in every classroom and school.
Endorsements from the Coalition's Broad Leadership
"Everybody wants better teachers – the question has been how to get them and keep them. Well now we have a roadmap, and the question now is whether policymakers in Congress and the states will follow it?"
-Bruce Lesley, First Focus President
"Congress and the Administration need to respond to public demand for more comprehensive strategies for ensuring ensure every classroom and school in America is led by competent, caring and committed education professionals. We need more visionary thinking than the current narrow focus on educator effectiveness, without overlooking the importance of profession ready teachers and principals."
-Joseph Bishop, co-chair, Coalition for Teaching; executive director, Opportunity Action; policy director, National Opportunity to Learn Campaign
"Our nation has an obligation to provide teachers and principals who are prepared to engage, challenge, and empower students and parents with diverse backgrounds, needs, and assets. This is especially critical for students and families from low-income backgrounds and limited English proficiency, as our country continues to diversify. We need to ensure that each and every student has the opportunity to achieve the American dream through a high-quality education with profession-ready teachers and principals."
-Quyen Dinh, executive director, Southeast Asia Resource Action Center (SEARAC)
"We need to seize this moment to strengthen the profession, especially the trajectory teachers follow in order to become accomplished practitioners. Getting that path right, and making sure all teachers follow it, is the surest way to create and sustain a workforce that is defined by the same consistent quality that is the hallmark of other professions."
-Ronald Thorpe, president, National Board for Professional Teaching Standards.
"Our kids need well-prepared and well-supported teachers. For years, the AFT has advocated for raising the bar—that is, building the teaching profession through solid preparation that includes clinical experiences, a higher threshold to ensure teachers have the pedagogical and content knowledge they need to be ready to teach on day one, and the provision of continuous support and opportunities throughout their careers. It's great to have a chorus of organizations singing this same tune. Now we need the political will to actually make it happen."
-Randi Weingarten, president, American Federation of Teachers
"The work of the Coalition for Teaching Quality illuminates a key disconnect between the goals of traditional principal development programs, which focus on principal preparation, and the needs of districts, which call for principal readiness. The Coalition's documents capture the essential elements of that readiness and admonish policymakers to turn its common sense into common practice."
-JoAnn Bartoletti, executive director, National Association of Secondary School Principals
"Ensuring that every child has an outstanding and prepared teacher leading their classroom is a basic civil right. The Coalition of Teacher Quality's vision of a professional continuum for teachers and leaders is an excellent step in gaining professional consensus around the ways in which we build and ensure an excellent teaching force for students. By ensuring that every teacher and principal is profession-ready, we are not allowing our students to be harmed by educators unprepared for the important task of guiding student learning."
-Lily Eskelsen Garcia, president, National Education Association
"As the Department of Education recently acknowledged, African American and Latino students are disproportionately taught by under-prepared teachers across the nation. It is time our country re-committed to preparing high quality teachers for all students and to the policies that will make that vision a reality,."
-John Affeldt, Education Program Director, Public Advocates, San Francisco.
"Students with disabilities are disproportionately poor and taught – in both general and special education settings – by teachers not prepared to meet their diverse learning needs. Yet, we know that when provided appropriate instruction, support, interventions and services by teachers with the necessary knowledge and skills, they can achieve alongside their peers. Policy and practice should ensure that all teachers and school leaders are provided comprehensive training and professional development so that every child can receive a quality education which prepares them for higher education, meaningful employment and full participation in his or her community."
-Denise Marshall, executive director for The Council of Parent Attorneys and Advocates
"Today we celebrate more than 100 local, state, and national organizations coalescing around a policy framework that would support a professional continuum for teachers and principals. If policy makers heed our advice, this framework will be a launching pad to ensuring high quality public education for all of our students."
-Billy Easton, executive director, Alliance for Quality Education
"The trademark of any profession is a continuum of expert learning and accomplishment. Policy makers are urged to follow the roadmap released by the 100 member Coalition for Teaching Quality which will ensure that our new teachers are 'profession ready' on day one with a clear path toward expanded roles and leadership."
-Sharon P. Robinson, President and CEO, American Association of Colleges of Teacher Education
"The expanding role of educators demands a high level of professional preparation and continuous growth of all teachers and principals. The Coalition provides a clear roadmap to build a competent and high-performing workforce that can be sustained over time. If we are to truly address equity issues in schools across our nation, we must give every student the opportunity to be taught by a well-prepared and skilled teacher in the classroom, who is supported and nurtured by a strong instructional leader or principal. While great teachers make great classrooms, only principals can lead a collective school's vision of excellence to success."
-Gail Connelly, executive director, National Association of Elementary School Principals
"The Coalition's Roadmap takes us into a much needed dialogue well beyond the limited conceptions of 'highly qualified' and 'highly effective' that have dominated the policy landscape. All students, including students with disabilities, deserve the investment called for in a continuum of teacher and leader excellence."
-Wendy Murawski, California State University, Northridge, President; Teacher Education Division, Council for Exceptional Children
"Having a clear vision for a continuum of professional development is critical for all educators, including special educators. Day one of teaching is only the beginning of a career. The Coalition has set a clear path for policymakers to follow in supporting the development of profession-ready teachers and school leaders who will prepare all students to be successful in the 21st century."
-Katharine Shepherd, University of Vermont, President; Higher Education Consortium for Special Education
"Access to great teaching at every class level in every grade is a civil and human right. Given the massive importance of the teaching profession as the gateway to every other profession, we would do well to never underestimate its potential and actual power."
-Angela Valenzuela, Director, National Latino/a Education Research and Policy Project; Director, Texas Center for Education Policy