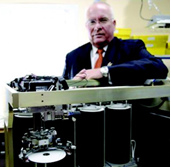 Hie Electronics provides clients with the peace of mind that their data is safe.
McKinney, Texas (PRWEB) October 14, 2014
Hie Electronics, a pioneer of innovation for long-term, scalable Active Archive™ data storage solutions and the manufacturer of the TeraStack® Solution and the bundled archive and backup suite, Enterprise TeraNimbus®, announces today that they will be providing a product demonstration at the First Annual North Texas Crime Commission Cyber Security Summit on October 16, 2014 at the George W. Bush Institute in Dallas.
Enterprise TeraNimbus provides customers with a departmental deployable archive and backup capability. TeraNimbus uses industry-leading archive technology in its storage architecture. The system uses patented technology for 50 to 100+ year data integrity. This same technology has previously only been available to Cloud corporate and government agency clients as an onsite offering. The TeraStack Solution is an industry leader in energy efficiency, using a hybrid data architecture that moves fixed content onto lower cost storage tiers coupled with Blu-ray media that is used to store the sleeping data, which eliminates the need for hard drives to constantly spin and consume energy.
"We are proud to be a sponsor of this cyber security summit and pleased to be able to demonstrate our bundled solution to the C-Suite executives in attendance," said Patrick Humm, chairman and president of Hie Electronics. "Our TeraStack hardware and TeraNimbus software bundle provides a user-friendly interface to the client and allows clients needing archive and backup to have a scalable solution that provides 50 to 100+ year cold storage data integrity, but more importantly, peace of mind that their data is safe from migrations, de-duplication processes, degradation and loss," added Humm.
About Hie Electronics
Hie Electronics is a leader in the Active Archive™ data storage system technology industry and the manufacturer of the TeraStack® Solution, a processing, data backup and archiving system. The TeraStack Solution can be used for critical data backup, cold storage, cyber forensics, medical industry applications, public and private cloud archiving, digital asset management, film and video archiving, forensic evidence data storage, geospatial imaging data archiving and storage, and digital video surveillance storage. A leader in Sustainable IT technology, the Hie Electronics TeraStack Solution product line delivers a 90 percent energy cost savings when compared with that of current technology. For more information about Hie Electronics, the innovative TeraStack Solution and the newly available Enterprise TeraNimbus, visit the company's website at http://www.hie-electronics.com.
About North Texas Crime Commission (NTCC) Cyber Security Summit
The NTCC is hosting its First Annual North Texas Crime Commission Cyber Security Summit for C-Suite executives on October 16, 2014. The event connects senior level executives, responsible for protecting their company's sensitive data, with data privacy and security experts who will discuss practical solutions to current data privacy problems facing businesses. Experts from the FBI, Secret Service, and Department of Justice will discuss corporate cyber attacks – past, present, and future and law enforcement's evolving role. Expert technicians will share insights on finding the right approach to protect sensitive corporate data, and legal practitioners will discuss strategies to help companies comply with increasingly complex state, federal, and international privacy and data security laws. The Honorable Tom Ridge will be the keynote luncheon speaker. Registration: https://www.eventbrite.com/e/cyber-crime-summit-tickets-13005741523.