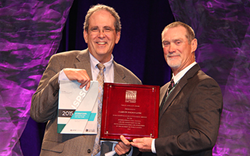 Alexandria (PRWEB) October 07, 2014
The Association of Pool & Spa Professionals (APSP) announces Carvin DiGiovanni, senior director, technical and standards has been named the 2014 International Code Council's (ICC) Affiliate of the Year. The award was presented at the ICC's annual conference in Fort Lauderdale, Sept. 30.
The award recognized DiGiovanni's work and collaboration to create the International Swimming Pool & Spa Code(ISPSC) to ensure public safety.
The ISPSC is the industry's only comprehensive model code covering both residential and commercial swimming pools and spas. The code uses prescriptive and performance-related provisions to establish minimum safety requirements for public and residential pools, spas and hot tubs. The ISPSC gives builders and code officials a common language in which to ensure consumer safety. States and other jurisdictions have already adopted the ISPSC, and APSP and the ICC will continue to advocate for adoption across all 50 states.
Recipients of the ICC Affiliate Award demonstrate integrity, professionalism and dedication through service to the building safety profession and personal standards representing the spirit of public service to the development of codes and standards in the interest of public safety. The award is presented in honor of John Fies, Wilbur H. Lind and Alton Riddick, who demonstrated unselfish service to the legacy model code organizations.
In his remarks, ICC's Board of Directors Member and Awards Committee Chairman Greg Wheeler said of DiGiovanni: "He was essential in developing a memorandum of understanding between his association and the ICC that led to the development of the International Swimming Pool and Spa Code."
In addition to developing codes and standards, DiGiovanni is known for his role in developing educational programs.
"The collaboration between the industry and regulators is strong as evidenced by the fact that we have this pool code [the ISPSC]. This code now steps into the void to help protect, with code language, residential pools and spas that the VGB Act has neglected. It's a wonderful collaboration," DiGiovanni said. "Our next job is to get this adopted in every jurisdiction possible to help protect those residential pools. I am truly grateful to the ICC and the ability to collaborate. I think we've done a great job together."
For more information about the ISPSC or to purchase, visit APSP.org/Store.
About APSP
The Association of Pool & Spa Professionals (APSP) is the world's oldest and largest association representing swimming pool, hot tub, and spa manufacturers, distributors, manufacturers' agents, designers, builders, installers, suppliers, retailers, and service professionals. Dedicated to the growth and development of its members' businesses and to promoting the enjoyment and safety of pools and spas, APSP offers a range of services, from professional development to advancing key legislation and regulation at the federal and local levels, to consumer outreach and public safety. APSP is the only industry organization recognized by the American National Standards Institute to develop and promote national standards for pools, hot tubs, and spas. For more information, visit APSP.org.