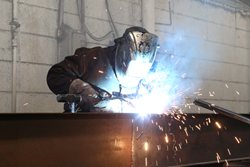 We created this website to highlight the superior construction methods and brand-name materials we integrate into our building process.
MARYVILLE, Tenn. (PRWEB) October 08, 2014
Clayton Homes, America's largest homebuilder**, is announcing the launch of a new tool to help homebuyers learn about the home-building process.
The interactive tool is a parallax scrolling site that outlines the steps of the construction process and provides useful photos and information about the quality materials that go into building a Clayton Home. The whole site acts as an animated infographic and is meant to be a fun way for the company to share behind-the-scenes information with its customers.
"We listened to our customers, and found that they wanted to learn more about our home quality," said Kevin Clayton, CEO of Clayton Homes. "We created this website to highlight the superior construction methods and brand-name materials we integrate into our building process."
Clayton Homes has more than 30 state-of-the-art Home Building Facilities located across the country that streamline the building process while cutting costs and reducing waste. These facilities use high-quality, brand-name materials that are some of the biggest names in the home building industry. Potential homebuyers might recognize names like: Whirlpool® appliances, Moen® faucets, Shaw® carpeting and Hunter Douglas® ceiling fans.
Additionally, Clayton Homes follows the U.S. Department of Housing and Urban Development (HUD) Building Code, which requires multiple building checkpoints and a third-party inspection approval before the home is ready to be sold. This code ensures that all Clayton Homes are built to be durable and will provide long-term value by reducing the need for unnecessary repairs and maintenance fees.
"We offer beautiful homes at a great price, and that's value our customers deserve," Clayton said. "Each Clayton Home is built with quality construction materials and is precision-engineered with value and efficiency in mind."
About Clayton Homes
Clayton Homes has built homes since 1956, winning multiple awards for design and construction. Through its affiliates and family of brands, Clayton Homes builds, sells, finances, leases, and insures manufactured and modular homes, as well commercial and educational buildings. As the nation's largest home builder*, Clayton Homes is a vertically integrated Berkshire Hathaway company whose purpose is opening doors to a better life, one home at a time.
Trademarks of companies other than Clayton Homes and affiliates are the property of those other companies. Whirlpool (registered trade mark of Whirlpool Properties, Inc.), Moen (registered trademark of Moen, Inc.), and Hunter Douglas (registered trademark of Hunter Douglas) are not affiliated with Clayton Homes.
**America's Largest Homebuilder in 2013 as of June 12, 2014, based on a comparison of the number of manufactured homes sold to the number of site-built homes sold as reported by builderonline.com and the number of manufactured homes shipped as compared to all other manufactured home manufacturers as reported by the Manufactured Home Institute.