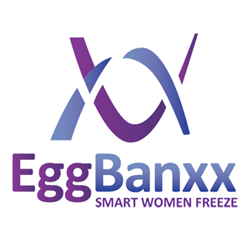 New York, NY (PRWEB) October 08, 2014
Hundreds of women are attending EggBanxx egg freezing parties to learn more about the technology that can extend their fertility. Women in their late 20s and 30s who haven't found a partner yet, or who have decided to delay having a family, are choosing to freeze their eggs to make pregnancy an option when they are ready.
Dr. Fahimeh Sasan of New York City's Mount Sinai Hospital and Chief Medical Officer of EggBanxx, explains that the technology behind EggBanxx allows women to pause their fertility. "Egg freezing removes the pressures of a ticking biological clock. It's a proactive step that allows women to take control of their futures and leave motherhood for a later chapter in life."
EggBanxx's next egg freezing party is at New York City's Harvard Club on October 14, 2014, from 6:00 – 8:00pm. New York fertility doctors will be at the event for a brief presentation, Q&A and one-on-one dialogue. Tickets are limited and registration is at http://www.EggBanxx.com/EBNYC.
At the upcoming event, interested, prospective patients will have the opportunity to ask questions such as:

Is egg freezing right for me?
What is the egg freezing process like?
What are the chances of having a baby with my frozen eggs?
What are the costs of freezing my eggs?
To attend EggBanxx NYC's 10/14 Let's Chill event, RSVP here.
To Learn more about EggBanxx call: 855-552-2699
To Find a Fertility Doctor near you call: 855-955-2229
For more information or to schedule an interview with an EggBanxx representative at the event, please contact me directly. EggBanxx representatives are available for interview prior to the event as well.
About EggBanxx
EggBanxx.com, owned by FertilityAuthority, is part of a family of websites providing comprehensive, interactive resources and referrals for women and men seeking quality fertility information, as well as tools to simplify the search for trusted fertility doctors or fertility clinics. With more than one million monthly visits, the websites FertilityAuthority.com, FertileThoughts.com, IVFAdvantage.com, EggFreezingCosts.com, EggBanxx.com, GenderSelectionAuthority.com— along with a staff of patient care coordinators — assist in making the important connection between patients and the physicians who can assist them in their family-building efforts.