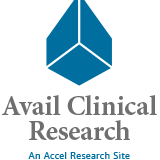 DeLand, FL (PRWEB) October 28, 2014
*Anyone who is interested in learning more about the clinical trials being conducted in DeLand, FL should check out Avail Clinical Research on the web (http://www.availclinical.com) or give them a call at (386) 785-2404.
Why Are Volunteers Needed?
Chronic obstructive pulmonary disease (COPD) is currently the third leading cause of death in the United States. This is a progressive illness for which there is still no cure. The best option available for those diagnosed with COPD is to manage the symptoms with a range of treatments. There is critical need for improved remedies like the one being tested at Avail Clinical Research in DeLand.
Years of research on COPD has yielded key insights, but it has also illuminated the scope of the challenge scientists and medical professionals face. Volunteers are needed so that researchers can continue improving on available treatments and working towards an eventual cure for this deadly disease.
What are the benefits of participating in a clinical study?

Qualified applicants gain access to top-notch medical care at no cost.
Health insurance is not required.
Participants may receive compensation for time and travel expenses.
Helping to advance scientific knowledge of a deadly illness.
COPD Symptoms
Unfortunately, people tend to ignore the early signs and symptoms that are associated with COPD. Studies have shown that many cases of this respiratory illness go undiagnosed with significant consequences. Treatment should begin as soon as possible, so knowing the following early-stage symptoms is very important:
Shortness of breath
Persistent cough
Chest heaviness/tightness
Coughing or wheezing
Sputum becoming thicker or stickier
Increase in sputum/mucous production
Change in sputum or color
Blood in sputum
Rapid breathing rate
Qualifying for a Clinical Trial in DeLand
Anyone who is interested in enrolling in a clinical trial will have to meet a specific set of enrollment criteria. The screening process for enrollment is not extensive, but it is crucial for the success of the study. One of Avail's primary physicians will ask applicants about their medical history and what forms of medication they are currently taking for their COPD. Certain drugs may have to be discontinued for the duration of the clinical trial.
Avail's Clinical Research Facility
Avail Clinical Research is a state-of-the-art facility located in DeLand, Florida. They specialize in conducting Phase I-IV clinical trials for a variety of medical conditions, including diabetes, osteoarthritis (OA) and the seasonal flu. Avail's research team has successfully conducted more than 800 clinical trials since first opening in 1998.
Avail is also the premier Phase I research site in the Florida with the ability to easily accommodate up to 50 patients overnight at a time. They also maintain a full Phase I staff that includes research nurses, clinical research coordinators and pharmacists. This specialized team helps ensure each participant feels comfortable and taken care of during their stay.
Sponsors and CRO's
Looking for the perfect site to conduct a Phase I study? Given the significance of the first stages in a new drug's life cycle, identifying the appropriate research facility can be extremely difficult. Avail is organized around experienced investigators and staff, which allows them to adapt to client needs without sacrificing accuracy, integrity, or safety. There isn't a better option when it comes to conducting patient population or healthy volunteer studies here in Florida. For more information, please see http://www.availclinical.com/cro-sponsors/
Avail Clinical Research conducts a wide range of clinical trials in DeLand, FL. For more information about these research opportunities, please visit their website (http://www.availclinical.com/trial/) or contact them directly at (386) 785-2404.