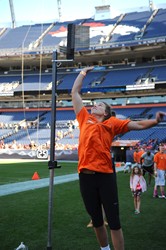 Cayce's donation shows the kind of caring touch volunteers offer to make Dorie's Promise serve as a lifelong, positive influence for orphans. - FCI founder Heather Radu
Colorado Springs, Colorado (PRWEB) October 09, 2014
After visiting Dorie's Promise in Guatemala last March, United States Air Force Academy cadet Cayce Dossett, who won a recent athletic competition at the Denver Broncos' training camp, had no doubt where she wanted to send her prize.
"They gave us $500 to give to whatever charity we wanted to, and I knew immediately I would donate it to Forever Changed International," says the Florida native, a senior who plans to become a civil engineer. "It's amazing how organized and accessible everything is at their orphanage. I loved being with the children. I think I learned more from the people and the kids there than I helped them."
"Cayce's donation shows the kind of caring touch volunteers offer to make Dorie's Promise serve as a lifelong, positive influence for orphans," says FCI founder Heather Radu. "We are delighted that she chose us as the recipient of her Broncos Country Heroes Award. This has blessed our staff, residents and other volunteers. We hope her gift will inspire others to take similar action."
Held at Sports Authority Field in Denver, "Train Like A Bronco" included 50 members of several military branches. They competed in the 40-yard dash, broad jump, cone drills, bench press and vertical leap. A member of Cadet Squadron 34, Cayce won among female participants, while fellow cadet Christopher Ryals captured the men's division. They received their awards at Denver's first preseason game.
As much as she enjoyed meeting Broncos players the day of the contest, Cayce is more excited about the return trip to Guatemala she plans to make next year. She and a friend joined nine other volunteers from the U.S. and Canada on her first visit last March. The group visited a state-run orphanage, poured sidewalks in a community in Guatemala City and painted a pool at a community center outside of town.
Cayce and a friend also led a special day of music instruction for children at Dorie's Promise, while another volunteer led a Zumba class and one group took some of the residents to a museum. Cayce particularly enjoyed meeting the Special Mothers—staff members who provide individual attention to several dozen children. Most residents come from backgrounds of poverty and abuse.
"I got to talk with the mothers and see how they take the children as their own," Cayce says. "The other staff members are awesome and use every opportunity to teach you. Hopefully on my next trip I can bring more people from the academy and my church (Woodmen Valley Chapel in Colorado Springs). This whole experience helped strengthen my relationship with Christ."
Located in Guatemala City, Dorie's Promise is an orphanage providing full-time care, housing, education and other amenities for up to 40 children. The home operates on donations and grants, primarily from sources in the United States. It is operated by Forever Changed International (FCI), which is located in the metro Portland, Oregon, area. Founded by Heather Radu, FCI is dedicated to rescuing orphans and providing them with a safe, nurturing environment. For more information, contact Radu at 360-335-3125 or e-mail heather(at)servewithfci(dot)org.