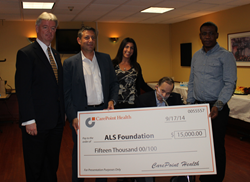 (PRWEB) October 07, 2014
Leaders from CarePoint Health presented the ALS Association with a check for $15,000 on October 1, 2014, at Bayonne Medical Center. The donation was part of CarePoint Health's participation in the Ice Bucket Challenge, where 150 CarePoint Health employees gathered to raise money and awareness for the ALS Association. The Ice Bucket Challenge and the $15,000 donation were dedicated to Daniel Kane, Chairman of the Board of Directors of both Bayonne Medical Center and the CarePoint Health Foundation and former CEO of Bayonne Medical Center, who was recently diagnosed with ALS. Mr. Kane, along with Mark Spektor, current President and CEO of Bayonne Medical Center, and Allyson Miller, Vice President of Marketing and Business Development, were on hand to present the check to John Nolan, Chief Development Officer at The ALS Association Greater New York Chapter.
The Ice Bucket Challenge took place on September 9, 2014, when executives in the organization joined together with CarePoint Health employees to raise money and awareness for the ALS Association. Transportation was provided at each hospital location to and from Bayonne Medical Center. Specially made T-shirts, buckets, towels and refreshments were on hand for all participants. At the appointed time, a sea of orange-clad CarePoint Health employees waited for the signal and proceeded to dump buckets of icy water on their own heads. An audible scream of chill and delight rose from the assembled crowd, followed by laughter and congratulations. The employees then watched with delight as executives and the owners and of CarePoint Health, including Jeff Mandler, Vivek Garipalli, and Jim Lawler, barefoot and in business attire, were dunked with an equally cold soaking.
Footage of the CarePoint Health Ice Bucket Challenge can be found online at: http://www.youtube.com/watch?v=czbrVLtHrvs
For media inquiries, contact:
Jarrod Bernstein
CarePoint Health
Phone: 201-821-8774
Fax: 973-646-5563
Email: MediaInquiry(at)carepointhealth.org
About CarePoint Health
CarePoint Health brings quality, patient-focused health care to Hudson County. Combining the resources of three area hospitals - Bayonne Medical Center, Christ Hospital in Jersey City, and Hoboken University Medical Center - CarePoint Health provides a new approach to deliver health care that puts the patient front and center. We leverage a network of top doctors, nurses and other medical professionals whose expertise and attentiveness work together to provide complete coordination of care, from the doctor's office to the hospital to the home. Patients benefit from the expertise and capabilities of a broad network of leading specialists and specialized technology. And at CarePoint Health, all of our medical professionals emphasize preventive medicine and focus on educating patients to make healthy life choices. For more information on our facilities, partners and services, visit our website, http://www.carepointhealth.org.
About the ALS Association
Established in 1985, The ALS Association is the only national non-profit organization fighting Lou Gehrig's Disease on every front. By leading the way in global research, providing assistance for people with ALS through a nationwide network of chapters, coordinating multidisciplinary care through certified clinical care centers, and fostering government partnerships, The Association builds hope and enhances quality of life while aggressively searching for new treatments and a cure.