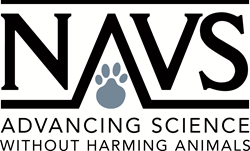 Chicago, IL (PRWEB) October 09, 2014
The National Anti-Vivisection Society (NAVS) has responded to news that the National Institutes of Health (NIH) will no longer fund research using random source, or "Class B," dogs.
In an online statement, NAVS says that "while the NIH's decision is a positive one in the context of phasing out 'Class B' animal dealers, this is not necessarily good news for dogs." NAVS is concerned that the NIH's action will do little to actually reduce the number of dogs subjected to experimentation.
Research facilities typically procure dogs for research from providers designated as either "Class A" dealers (licensed commercial breeders that sell "purpose-bred" dogs specifically for research) or "Class B" dealers (individuals selling dogs of unknown lineage, typically obtained from animal shelters, dog pounds or auctions). As of October 1 of this year, researchers are now prohibited from using NIH funding to purchase "Class B" dogs for experiments. This decision only impacts NIH-funded research and does not apply to private research.
However, more troubling than the prohibition's limited scope, according to NAVS, is the fact that the NIH has awarded a contract to a biomedical research company to provide purpose-bred dogs with the characteristics of random source dogs. In doing so, NAVS notes, the NIH has ensured that they will continue to have at their disposal "a large inventory of purpose-bred dogs with 'Class B'-like characteristics available for their researchers to use for experimentation."
"In so many ways, this policy change on the part of the NIH only perpetuates the needless exploitation of an animal who is viewed in our society to be a cherished member of the family," notes NAVS Executive Director Peggy Cunniff. "Clearly there is no relevant distinction between a 'lab dog' and the companion animal who wags his tail when he greets you at the door. Under the NIH plan, dogs will now be purpose-bred and warehoused until they meet a given research criteria."
NAVS has been following this issue since the release of "Scientific and Humane Issues in the Use of Random Source Dogs and Cats in Research," a 2009 report by the Institute for Laboratory Animal Research (ILAR). That report noted the uncertainly inherent in random source dogs and cats, both in quality and availability—including the concern that the use of "Class B" dealers could result in "lost or stolen pets end[ing] up in laboratories."
The ILAR report recommended that the NIH eliminate these variables and concerns by obtaining research animals from alternate sources. Shortly thereafter, the NIH solicited bids to provide up to 1,000 "large, mature, socialized out-bred hounds or mongrels" per year from a "Class A" animal breeder to replace the dogs no longer purchased from "Class B" dealers.
As a result, Cunniff fears the net benefit to animals will be negligible.
"The NIH is simply replacing dogs from small breeders and shelters with dogs from large breeders who raise the dogs specifically for use in research," she observes.
Cunniff says NAVS would ultimately like to see the NIH replace its use of dogs as models for human disease with non-animal methodologies that are more humane as well as more predictive of what is safe and effective for people.
"We see this as a missed opportunity for the NIH to end the use of dogs in biomedical research," she says. "The NIH should be exerting more effort on developing and implementing more human-relevant models that have a higher likelihood of predicting human outcomes and protecting human health."
On its website, NAVS is asking individuals to contact NIH Director Dr. Francis Collins and ask that his agency "stop implementing the plan for breeding and using dogs for research purposes and begin the process of phasing out any exploitation of dogs from the design of experiments approved and funded by the NIH." The full text of NAVS' online statement can be found here.
ABOUT THE NATIONAL ANTI-VIVISECTION SOCIETY
Founded in 1929, the National Anti-Vivisection Society promotes greater compassion, respect and justice for animals through educational and advocacy programs based on respected ethical, scientific and legal theory. NAVS works to increase public awareness about animal experimentation, to promote positive solutions that advance science, to support the development of alternatives to the use of animals, and to effect changes that will help end the unnecessary suffering of animals. For more information, visit http://www.navs.org.