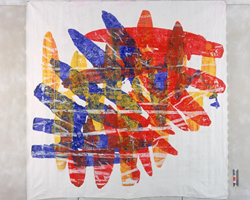 Los Angeles, California (PRWEB) October 08, 2014
World Wide Art Los Angeles will be holding its inaugural fine art show October 16 -19, 2014 at the Los Angeles Convention Center®. To kick of the annual event, there will be a ribbon cutting at 5:00 pm on Thursday October 16th, hosted by the Los Angeles Area Chamber of Commerce. The ribbon cutting event is open to the general public.
The theme of the show is "Celebrating the Influence of ART in the World". This theme focuses on three major topics: Environmental Awareness through ART, Social Equality through ART, and Cultural Expressions through ART. With exhibitors from over twenty different countries, each topic can be seen throughout the show.
Featured exhibitors are participating with artists who focus solely on one of the specific themes. These exhibitors include Braden Summers Photography, G2 Gallery, Beijing Caiyuxuan Gallery, Mock Gallery and Just Art Gallery. Attendees will also find rediscovered works by Gil Cuatrecasas on display by the exhibitor Rediscovered Masters.
The show has each exhibitor listed online for collectors and curators to see what they will have the opportunity to explore firsthand at the show. The Directors of the show encourage collectors and curators alike to reach out to individual exhibitors beforehand to secure pieces being shown in Los Angeles.
World Wide Art Los Angeles
Los Angeles Convention Center®
West Hall A
October 16-19, 2014
+1.805.845.3869
worldwideartla.com
[info] at [worldwideartla] dot [com]
Show Dates, Times and Events
Thursday October 16 5:00pm – 10:00pm
5:00pm – Ribbon Cutting hosted by the Los Angeles Area Chamber of Commerce
Opening Night Reception hosted by the Chinese Chamber of Commerce of Los Angeles and the Beijing Caiyuxuan Gallery
Friday October 17 10:00am – 7:00pm
A portion of door sales go toward supporting CREATE NOW, a non-profit organization that transforms lives through creative arts mentoring and opportunities
Saturday October 18 10:00am – 7:00pm
Museum Day – All card holding members of Southern California Art Museum receive complimentary admission
2:00pm – A panel discussion on Environmental Awareness through ART
3:00pm – A talk by Peter Falk on Art Investment
4:00pm – A panel discussion on Social Equality through ART
Sunday October 19 10:00am – 5:00pm