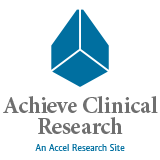 Birmingham, AL (PRWEB) October 28, 2014
*To learn more about this osteoarthritis (OA) clinical trial in Birmingham, AL, please check out Achieve Clinical Research on the web (http://www.achieveclinical.com) or contact them directly at (205) 380-6434.
There are plenty of benefits to participating in a clinical trial, including:

Receiving top-quality medical care at no cost.
Health insurance is not required.
Participants may be compensated for time and travel expenses.
Osteoarthritis Symptoms
Most people don't realize that osteoarthritis is one of the most common medical conditions in the world. So many people over the age of 50 are afflicted with this form of arthritis, that it has become synonymous with old age in many ways. Clinical studies have shown that the symptoms of OA can manifest in any of the following joints:

Knees
Hips
Neck
Lower back
Wrists
Despite what is known about this degenerative disease, a comprehensive cure for osteoarthritis has yet to be discovered. Clinical trials like the ones being conducted in Birmingham are pointing researchers in new and intriguing directions-- they now know just how influential a diet can be on the body.
Why Volunteer for a Clinical Trial?
Most people don't realize how much of a difference they can make by volunteering for a clinical trial. Each participant helps research teams come take that next important step towards a new discovery and eventually a cure. The OA treatments that change the lives of so many each year would not be possible if it were not for clinical trials like the ones conducted at Achieve in Birmingham, AL.
People who make that decision to volunteer for a clinical study may do it for the short-term benefits, but they should understand that their inclusion will help ensure the success of the entire research process. It is not the right choice for everyone, but it is one that should be considered carefully.
Who Is Eligible to Participate?
This is actually a complex question as it will differ greatly between each clinical trial. What's important is understanding that this is a crucial aspect of the entire process. Applicants who want to enroll in a clinical study will be screened by the physician (s) who's overseeing the project. They'll be questioned about their medical history and about any medication they may be taking. Some forms of medication may not be allowed during a given clinical trial.
Achieve's Clinical Research Facility
Located in Birmingham, Alabama, this state-of-the-art facility specializes in conducting complex clinical trials for a wide range of medical conditions, including rheumatoid arthritis (RA), pneumonia, diabetic nephropathy and many more. The facility was strategically placed right in the heart of Birmingham's renowned medical district. Achieve is organized around an experienced investigators and staff, which allows them to adapt to client needs without sacrificing accuracy, integrity, or safety.
Sponsors and CRO's
Sponsors and clinical research coordinators must constantly overcome difficult odds in the pursuit of the appropriate facility to conduct their study. Achieve is located relatively close to Birmingham's International Airport. That combined with it's centralized location within the medical district make it an ideal solution. Utilizing its vast network of physicians, hospitals, outpatient surgical centers and local patient groups, Achieve has developed a highly efficient recruitment model for screening and enrolling quality patients for a variety of inpatient indications. Check out their sponsor portal at (http://www.achieveclinical.com/cro-sponsors/) for more information.
Achieve Clinical Research conducts a wide range of clinical trials in Birmingham, AL. For more information about these research opportunities, please visit their website (http://www.achieveclinical.com/trial/) or contact them directly at (205) 380-6434.