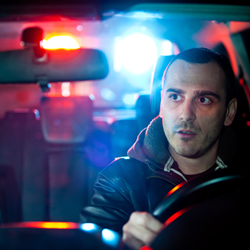 "Phelps…failed two roadside sobriety tests and was asked to perform a third involving balancing on one leg. "
(PRWEB) October 10, 2014
Early Tuesday morning outside the Fort McHenry Tunnel in Baltimore, Maryland, Michael Phelps was arrested and charged with drunken driving. According to a Baltimore Sun article, "Phelps had a blood alcohol level of 0.14, well above the state limit of 0.08." The article continues, "Phelps…failed two roadside sobriety tests and was asked to perform a third involving balancing on one leg," but he declined. Court documents show that Phelps is charged with driving under the influence, excessive speed of 84mph in a 45mph zone and crossing double lane lines. The Baltimore Sun article also adds that Phelps told the arresting officer he had three to four drinks at the Horseshoe Casino.
If one is pulled over for a DUI in Maryland, it is important to know one's rights. Anytime one is pulled over, it is normal for the officer to ask to see one's license and registration. It is important to comply and to remain calm. Further, one should not say or do anything other than handing the documents to the officer. Throughout the stop, do not say anything more than what is absolutely necessary. It is not required of one to answer any of the officer's questions pertaining to how many drinks one has had, where one is coming from, or how long it has been since one's last drink. Additionally, the officer will request that a field sobriety test or breathalyzer test be performed. One has the right to refuse to take these tests, but if one does, one's driver's license will automatically be suspended for 120 days regardless of being found guilty or not guilty.
The police officer is not required to contact one's attorney until one has been arrested and read one's Miranda rights. At this point, one should remain silent and ask for one's attorney. It is imperative that one has an experienced attorney like those at Portner & Shure to help protect one's legal rights.
For drivers who have not had a prior DUI conviction or have received probation before judgment (PBJ) for a previous DUI in the last 10 years, a PBJ is a possibility. If one receives a PBJ and make it through the probationary period, one's driving record will remain clean. However, since DUI is a criminal offense, it will remain on one's record. This is Michael Phelps' second drunk driving arrest, the first of which he pled guilty to driving while impaired and received probation. It is unlikely that Phelps will receive a PBJ for this DUI charge.
It is important to consider how a judge would look at this case. Judges have a duty to protect the public from all types of criminal behavior, including drunk driving. It is more likely that a judge would give jail than probation time this time around since this is Phelps' second offense.
Instead of focusing on the fact that the most decorated Olympic athlete, Michael Phelps, was arrested and charged with driving under the influence, the real focus should be on drunk driving as a major societal issue. Clearly, there is a problem in society with many people thinking that it is alright to drive home after having just a couple or even several drinks. Most people go through a mental checklist weighing the decision to drive after drinking alcohol. In Phelps' case, he probably said to himself that it is only a short drive home, he will wear his seatbelt, not text while driving, etc. and he should be ok. He obviously was not ok to drive because he was driving almost double the speed limit and crossing lane lines. He is lucky that he did not crash into other cars. Phelps did not let us down as an Olympic athlete as his Twitter apology stated, instead, he let us down as citizens of Maryland for subjecting us to serious injuries by driving drunk, speeding through the Fort McHenry Tunnel.
http://articles.baltimoresun.com/2014-10-01/news/bs-md-phelps-arrest-document-20141001_1_liquor-board-michael-phelps-day-liquor-license