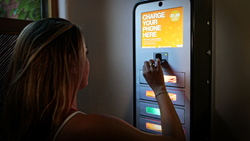 Brightbox has enjoyed a high level of success with hotels and casinos who have embraced customer need for a secure charging amenity. IMEX is a unique opportunity for us to showcase and introduce our new Brightbox® Mark3 platform.
New York, NY (PRWEB) October 09, 2014
Brightbox, Inc. (http://www.brightboxcharge.com), the leading platform provider of networked, safe and secure mobile charging, is pleased to announce it is the official charging sponsor of IMEX 2014, the North American Hospitality Las Vegas trade show, which takes place at the Sands Expo®, October 14th to the 16th.
IMEX creates a unique environment for global meeting and hospitality professionals to gather in one place. "Brightbox has enjoyed a high level of success with hotels and casinos who have embraced customer need for a secure charging amenity." said Billy Gridley, CEO of Brightbox. "IMEX is a unique opportunity for us to showcase and introduce our new Brightbox® Mark3 platform to more hospitality professionals."
The new Brightbox® Mark3 mobile charging platform, which enables consumers to continue to communicate, navigate, search, shop, share, pay and play on their mobile devices, is the most innovative, safe and secure mobile device charging solution available today. Unlimited time charging sessions via the Brightbox amenity are offered for free to hospitality industry attendees of the IMEX show. Users simply swipe a credit card to open an available station chamber, plug in their mobile device, close the chamber and return later to swipe the same card to retrieve their charged phone.
Brightbox is perfect for trade shows, conferences, and professional meetings and is the latest event technology that can be customized to clients' needs. Brightbox® Mark3 features a 10" interactive touch screen, customizable swipe cards and a strong brand-messaging platform. The UL and agency certified stations employ the strongest cryptography to ensure the physical and data integrity of phones being charged, are PCI compliant and meet the highest standards for security and safety. They offer retractable charging cables and larger chambers that can accommodate nearly any mobile device, including the latest tablets, while delivering the safest and quickest charge possible at the fastest optimized manufacturer's recommended rate.
Brightbox charging stations are anticipated to be heavily used throughout the entire week at IMEX as the conference features a dozen educational classes as well as seminars that require high levels of social media connectivity amongst attendees. Hospitality professionals can continue to go to meetings, network, eat and work, resting assured that their phones are being safely and optimally charged in a station that delivers both data privacy and physical security. Brightbox charging is instrumental in keeping conference attendees connected who might otherwise be tempted to return to their hotel if their phone is without a charge, while also ensuring continued interaction with the IMEX Show's mobile apps via a fully charged device.
"Mobile applications are an integral part of the tradeshow experience. Exhibitors and attendees alike rely on them to make appointments, enhance the show experience and keep patrons connected on social media," said Joel Martin, Global Events Director of Brightbox. "Meeting professionals tend use more cellular power at closed shows so it is important to have a good solution for their charging needs on site."
About Brightbox
Brightbox® is a New York City based end-to-end technology solutions company providing venues and users with best-in-class mobile device charging services and a robust platform for marketing, sponsorship and venue interaction. Founded in 2010, Brightbox delivers advanced and innovative charging solutions and has deployed its secure charging lockers in 3 countries and 20 states in a variety of event and vertical markets that include hospitality, entertainment, healthcare, retail, education, transport and beyond.
Event customers include AOL, AdWeek, American Airlines, BBC Comic Con, CEDIA, Discovery Channel, Detroit Grand Prix, Event Tech, IBM, IMEX, Inc. 500/5000, New York Fashion Week, New York Times Travel Show. Other enterprise customers include Marriott, Hilton, Hyatt, Sheraton, Caesars, MGM, Heineken, Tampa Bay Rays, Baystate Health, Orlando Health and British Airways. Learn more at http://www.brightboxcharge.com @brightboxcharge
About IMEX America
IMEX is America's Worldwide Exhibition for Incentive, Travel Meetings & Events. IMEX America is a three-day "trade show with a difference" that includes Smart Monday, powered by MPI, on Oct. 13. This full preshow day of professional education has 'something for everyone' and will include a Senior Planners track for the first time. The majority of sessions are free of charge with no need to book. There are over 14,000 meeting professionals scheduled to attend.
Last year over 2,600 hosted buyers from 40 global markets scheduled 50,000 self-selected appointments with exhibitors from 150 countries. At the show's close, total appointment numbers were up 27% compared to 2012, representing a significant rise in one-on-one business meetings between buyers and exhibitors. For more information visit: http://www.imexamerica.com/