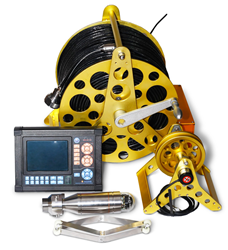 Strahl Downhole Camera with a pan and tilt feature, completely waterproof, powerful illumination, equipped with on-screen depth counter.
Winnipeg, Canada (PRWEB) October 08, 2014
Medit Inc, one of the acknowledged leaders in the NDT equipment market in North America, introduces new borehole camera for underwater inspections. The new STRAHL Downhole Camera from Medit boasts to be one of the most affordable and easy to use devices in its segment of the market. The pan-and-tilt camera head features down view and side view as it pans 360⁰ and tilts 180⁰, thoroughly inspecting the entire problem area in one run. The housing is made of aluminum and is tightly sealed (IP68 waterproof) against water intrusion, allowing for underwater inspections up to 300 meters deep. LED lights provide sufficient illumination to obtain clear, crisp images even in the darkest environments.
The camera comes with a control unit with a high-resolution 5.7" LCD display and intuitive interface. Operators can view the whole inspection process on the display and capture data as video or images for further processing or sharing with clients. All operations are performed by means of control buttons on the light and compact control unit.
The new Video Inspection System is available with Ø8mm flexible probes with lengths up to 300 meters. To increase operators' safety and comfort of work and to prolong probe's longevity the camera comes with a compact reel that makes it easy to coil and store the probe. The set also includes a centering skid to position the camera head in the center of the pipe and on-screen depth counter to track how much probe has been inserted.
Taking all the above into consideration, the new downhole set is a good deal for operators conducting underwater inspections as it is not only affordable, but also easy to operate and easy to carry around.
"The new Downhole Camera is a great example of a device that can perform high-quality informative underwater inspections and does not have to cost you an arm and a leg at that".