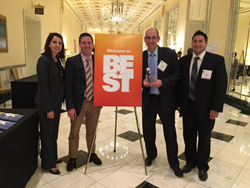 Atlanta, GA (PRWEB) October 08, 2014
Gables Residential is proud to announce that it ranked #25 in the Association for Talent Development's (formerly ASTD) 2014 BEST Awards program. Gables is among 46 organizations from six countries to receive a 2014 BEST Award. All winners are featured in a special section of the October 2014 issue of TD ATD's monthly magazine.
Members of the Gables L&D department received the BEST Award during a ceremony held in Washington, D.C. on October 2. Prior to the ceremony winning organizations were invited to share their best practices with other training and talent development practitioners at the Learn from the BEST conference.
Jennifer Antos, Vice President, Learning & Development stated, "Gables is proud to be recognized as an ATD BEST Awards winner for the fourth time. The commitment across our entire company to support talent development, ultimately achieving strong business results, continues to prove that Gables is a leader in the industry."
The BEST Awards are the talent development industry's most rigorous and coveted recognition. The BEST Awards recognize organizations that demonstrate enterprise-wide success through employee learning and development. "These 46 companies excel in creating innovative, vibrant learning cultures that clearly align with strategic business goals," says Tony Bingham, ATD President and CEO. "They get it. The leadership of these organizations values the impact that talent development achieves, and knows that having a knowledgeable and skilled workforce drives success. "
Gables competed against nearly 100 organizations from 14 countries. Every organization submitted quantitative and qualitative information to ATD about their learning and talent development practices and programs. Applications were assessed in a blind review by members of the BEST Awards advisory committee, a select group of experts in the field.
"Gables multifaceted approach to training including engaging instructor led classes, e-learning, short vignette style on demand videos, and even experiential opportunities are all designed to drive business results through building knowledge and capacity in our workforce. We are both proud and thrilled to be recognized alongside some of the largest and greatest companies in the world," commented Phil Altschuler, Senior Vice President, Human Resources for Gables Residential. This is the twelfth year of the BEST Awards. More information about the 2014 ASTD BEST Award winners may be found in the October 2014 issue of TD magazine.
About Gables Residential
Gables Residential is an award winning, vertically integrated real estate company and privately held REIT specializing in the development, construction, ownership, acquisition, financing and management of multifamily and mixed-use communities. Gables Residential owns, develops and manages communities in high growth markets throughout the United States including Atlanta, Austin, Boston, Dallas, Denver, Houston, South Florida, Southern California and metropolitan Washington, D.C. Additionally, we have third party management operations in the New York, Virginia Beach, Phoenix, Seattle, San Antonio, Charlotte, Central and North Florida markets.
Gables manages approximately 35,000 apartment homes and 400,000 square feet of retail space and has received national recognition for excellence in development, management, sales, marketing, training, benefits and corporate accommodations. These achievements reflect the impact of our experienced and dedicated team members, our superior knowledge of the markets served, and expertise in development and management.
About ATD
The Association for Talent Development (ATD), formerly ASTD is the world's largest association dedicated to those who develop talent in organizations. These professionals help others achieve their full potential by improving their knowledge, skills, and abilities. ATD's members come from more than 120 countries and work in public and private organizations in every industry sector. ATD supports the work of professionals locally in more than 125 chapters, international strategic partners, and global member networks. For more information, visit http://www.td.org.
###