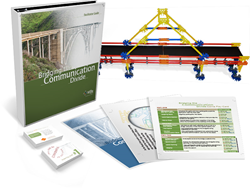 King of Prussia, PA (PRWEB) October 22, 2014
The latest addition to the bestselling HRDQ Style Series, Bridging the Communication Divide immerses participants in a fast-paced, two-part adventure that challenges them to use their communication style and skills to build a bridge. A half-day learning experience, it's appropriate for frontline employees, management team members, and everyone in between.
"More than a year in the making, Bridging the Communication Divide is built on the DNA of the highly effective HRDQ Style Model," commented Martin Delahoussaye, HRDQ Vice President of Publishing. "The same communication style model has helped millions of people to improve their performance and their relationships with others. This game makes it possible for participants to experience firsthand the consequences of poor communication—and then practice strategies to improve their interactions with others. The results are immediate and lasting."
"Just like trainer favorites such as the classic Jungle Escape and the award-winning Mars Surface Rover, Bridging the Communication Divide offers a fun and engaging way to show people how personality styles impact communication, both in their personal lives and in the workplace," said Bradford Glaser, HRDQ President and CEO. "And while the adventure is only a simulation, the improvements to communication are very real."
Available through HRDQ, Bridging the Communication Divide can be used as a standalone tool or the centerpiece of an instructor-led communication training program. The complete game kit offers materials to train up to 24 participants at one time, including a facilitator guide, participant workbooks, support materials, and game parts.