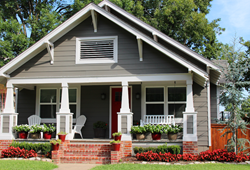 America's Happiest Seaside Towns
Beaufort, South Carolina (PRWEB) October 08, 2014
Fall is a favorite season all around the country, for many different reasons. In the South, fall is a time for festivals! One folks won't want to miss is the Beaufort, South Carolina, Fall Festival of Houses & Gardens, presented by the Historic Beaufort Foundation. The city of Beaufort with its charming downtown area is over 300 years old, and is considered by many to be one of the best places to live in the south.
Stately and charming homes, many of them erected over two centuries ago, exhibit a wide variety of architectural influence. The Festival opens these privately held historic homes, plantations, and commercial buildings to visitors in a rare opportunity to experience and enjoy Lowcountry history, design, art, landscaping, architecture and cuisine all in one weekend. And, best of all, Festival proceeds go to further preservation efforts. Check out the schedule:
BEAUFORT FALL FESTIVAL OF HOUSES AND GARDEN EVENTS
Friday, Oct. 24 Walking Tour of Beaufort Historic District. Tour homes in the city's National Historic Landmark District. Starting times are 2 PM, 3 PM, and 4 PM, with all homes closing a 6 PM.
Saturday, Oct. 25 Ramble Around Beaufort. Visit seven properties in and around Beaufort, including a recently restored historic home rescued by the Foundation. Starting times are 10 AM, 11 AM, 12 PM, and 1 PM, with all properties closing at 4 PM.
Sunday, Oct. 26 Kitchens & Cuisine. Five local chefs create scrumptious regional specialties in the kitchens of five private homes. Choose 11:30 AM – 2:30 PM session or 12:30 – 3:30 PM.
LOVING LIFE IN BEAUFORT
Beaufort is a town with oodles of character, excellent seafood locally caught in surrounding rivers and salt marshes, and a rich cultural scene. Located within 90 minutes of either Savannah or Charleston, Beaufort moves a little more slowly than the big cities, yet is close enough to the action to zip up or down for a night of opera or world-class entertainment. Beaufort South Carolina neighborhoods are populated by young families, boomers, retirees, fisherman, poets, artists and even moviemakers. The eclectic cross section makes for a friendly, live-and-let-live sort of vibe, and a surprisingly youngish population. From water sports on the bay to hiking and biking the Spanish Moss Trail, there is plenty to do for those who enjoy an active lifestyle in this very walkable town.
Not surprisingly, Beaufort made Southern Living magazine's June 2014 list of "Small Towns We Love." Earlier, in 2013, Coastal Living Magazine named Beaufort "America's Happiest Seaside Town." It's true, there is a lot to love about life in Beaufort, Port Royal and surrounding neighborhoods.
Coosaw Point on Lady's Island is one such Beaufort South Carolina neighborhood. Residents here find their community so friendly and appealing that they voted Coosaw Point as Real Estate Scorecard's "Happiest Community of the Year" in 2013. This master planned community enjoys nearby beaches, good schools, a low cost of living, and lots of social activities, as friends and neighbors gather for BBQs, sports, and holiday events.
While Coosaw Point homes are not historic – yet – the well-built Lowcountry cottage-style homes blend perfectly into the surrounding countryside, lending a feel of timelessness. Approved builders in Coosaw Point are all Energy Star green builders – not unlike their ancestors – albeit working with modern materials and 21st century science on their side. Coosaw Point homes are only five minutes from downtown Beaufort with its markets, eateries, and the Downtown Marina, so there is always something fun to do – especially during fall festival season.
Coosaw Point property owners also enjoy wonderful recreational amenities on site. The coastal South Carolina community has a private boat dock leading to the Saint Helena Sound and Beaufort River, making it easy to sail off for the day to Hilton Head Island or Savannah. Property owners have full use of boat and kayak storage facilities and a boat ramp. Landlubbers, however, may prefer to admire the marshes of the Coosaw River at sunset from the wide, comfortable verandahs of the 11,000 sq. ft. River Clubhouse. There is also a fitness center, resort-style outdoor swimming pool, two lighted tennis courts, community parks and duck ponds throughout, a dog park, and a lakeside pavilion with outdoor fireplace for warm get-togethers on chilly fall nights. Neighborhood friends and families gather at the old preserved crab shack, a remainder of crab packing operations from long-ago Coosaw Point, for crab roasts and shrimp boils.
Check out homes at Coosaw Point
Here, at one of the best places to live in the South, nature envelopes Coosaw Point homes. In this carefully developed 400-acre riverfront community, just as the Native Americans who settled Coosaw Point a thousand years ago enjoyed forests, marshlands, rivers and indigenous wildlife, so, too, do today's happy residents.
For more information, or to schedule a Coosaw Point tour, call 843.522.0041.
About Real Estate Scorecard:
Real Estate Scorecard writes unbiased real estate reviews providing in-depth information about popular gated communities in Florida, Georgia, North Carolina, South Carolina, and Tennessee, all in an effort to help people discover where to retire in the Southeast.
Website: http://realestatescorecard.com