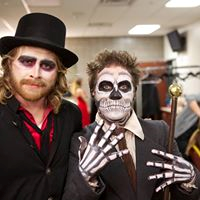 Los Angeles, Calif. (PRWEB) October 08, 2014
Jon Peter Lewis and Ryan Hayes of folk duo Midas Whale are set to take the stage on October 10th for their annual rock opera, Deep Love. Joining the production is fellow Voice alum Amy Whitcomb.
Told entirely through music, Deep Love blends traditional folk melodies with bluesy American rock to tell the tragic tale of a jealous lover's reach from beyond grave. Featuring a twenty five-person ensemble, the musical production will open in Idaho Falls.
Deep Love is the brainchild of songwriters Ryan Hayes and Garrett Sherwood. Jon Peter Lewis joined the team in as co-producer to help launch the show into a multi-city, annual event. Now in the production's fourth run, the audience has grown from 20 people in Lewis' living room to thousands as the company tours regional theaters.
Hayes and Lewis met fellow Voice contestant Amy Whitcomb during the duo's appearance on season four of The Voice. "We were blown away when we heard Amy sing," says Jon Peter Lewis. "Ryan and I quickly agreed she would be perfect in the role of Florence the jealous lover." Also joining the cast this year is actress and singer, Melanie Stone.
In August 2014, the teamed launched a successful Kickstarter campaign to help fund the expansion of the rock opera. "We are so excited about the show," adds Ryan Hayes. "Deep Love has been a labor of love from the beginning and this year's production promises to be the best yet."
Deep Love opens at the Colonial Theater in Idaho Falls on October 10th and will move on to the Rose Wagner Performing Arts Center in Salt Lake City on October 17th. The Deep Love team has been invited to showcase the production at Oregon's Arts Northwest in October with more show dates to be announced.
Deep Love is intended for all ages. Audience members are encouraged to wear their best funeral attire to the show.
For more information visit: http://www.deeploveopera.com
Video Clips: https://www.youtube.com/watch?v=h_Ksl0apDZI
Tickets: http://www.deeploveopera.com/calendar/
Media Contact: deeploveopera(at)gmail(dot)com
# # # #
About Midas Whale
Musicians Jon Peter Lewis and Ryan Hayes met in 2009 when Lewis heard Hayes singing at an open mic in Rexburg, Idaho. The two immediately began to collaborate, writing songs and co-producing the folk-rock opera Deep Love. Looking for more opportunities to perform they formed the folk duo Midas Whale in 2012 and auditioned for The Voice. The energetic folk version of "Folsom Prison Blues" prompted the coveted 4-chair turn by all coaches. Adam Levine praised the "charismatic" duo saying, "You guys are perhaps one of the more charming, talented duos I've ever seen perform. That's the truth."
Midas Whale released their debut album on Feb 11, 2014, Titled Sugar House. All songs were written and arranged by Ryan Hayes and Jon Peter Lewis. Hayes describes the folk album as a "sonic adventure through the American West."
About Amy Whitcomb
Born in Longwood Florida, Amy Whitcomb has been in love with music since she was three years old begging her mom to put her in piano lessons. In middle school she developed a passion for popular music and wrote her first song at age 14. Whitcomb has released two EP's with her rock band, The Whits, who opened for Brad Paisley in 2011. Whitcomb has appeared on NBC's The Sing-Off with her A cappella group Delilah. She has toured internationally throughout Asia and Europe and in 2013 appeared on NBC's The Voice as a solo artist.
About Garret Sherwood
Garrett Sherwood is a life long musician and songwriter. A native of Chicago, Illinois, Sherwood is also a published author and performer of poetry. In 2014 Sherwood released his latest collection of poems, All These Hands Are Tree Trunks. Sherwood co-wrote and developed Deep Love with Ryan Hayes in 2010 and stars in the production as Friedrich, a character struggling to find eternal peace.
About Melanie Stone
Born and raised in the central valley of Modesto California, Melanie moved to Utah in 2012 and became involved with the Utah theater and film industry. Her recent credits include the lead role in the fantasy series Mythica featuring Kevin Sorbo, and the art house film Wildlife with Jon Heder. Stone has appeared in numerous theatrical performances throughout the West and joined the Deep Love cast in 2014 as Constance, the young widow trapped in a world she cannot change.