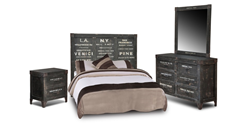 We aim to offer the best products and services available. The other stores can do what we do!
Morgantown, WV (PRWEB) October 07, 2014
Chuck's Furniture has been serving north central West Virginia for over 45 years. Quality of service has remained at the forefront of their focus as they've evolved to offer the quality and designs they've become known for.
The newest addition to their showroom is Horizon Home. The company specializes in solid wood furniture so customers can rest assured knowing they are buying something that will stand the test of time. They have a variety of styles but where they place their focus is on the reclaimed or rustic look which is extremely popular right now.
According to James Prutilpac, sales manager, "A lot of customers are really into the eclectic and rustic looks right now. There has always been interest but not on the level seen in recent years. Horizon Home offers a large selection so we can expand what's available to our customers."
The owners, of Mexican heritage, maintain a strong relationship with their craftsman in Mexico. The furniture is not made by a faceless company half way around the world. Solid wood and heirloom quality craftsmanship is still used in the form of mortise and tenon joinery, for example.
James believes that "customers will respond very well to this product. Morgantown has a diverse population and we serve those interests better than any store in the area. Not only do we focus on quality products and great customer service but we spend a lot of time looking for the trends and styles that our customers want."