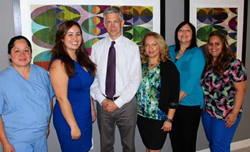 "It is important for every patient to feel comfortable and confident with their infertility treatment plan," says Dr. Williams. "One of the primary goals is to empower Hispanic patients to learn about their diagnosis, treatment
Danbury, CT (PRWEB) October 09, 2014
Reproductive Medicine Associates of Connecticut (RMACT) is launching fertiFamilia, a special program for individuals and couples who are most comfortable discussing their medical care in Spanish. fertiFamilia has a complete fertility team that addresses the medical, financial, logistical and cultural needs of Spanish-speaking fertility patients. The program is the first of its kind in Connecticut; the team includes:

Dr. Shaun C. Williams, Board-certified Reproductive Endocrinologist
Angela P. Rojas, Program Coordinator and Patient Navigator
Carmon Ramos, Front Desk Receptionist, Team Leader
Jennifer Oliveras, Medical Assistant
Beatrice Abshire, Financial Services Representative
Nancy Gil, Laboratory Technician
The fertiFamilia team will dedicate a full day to seeing Hispanic patients at RMACT's Danbury office twice a month, as well as appointments throughout the month at RMACT's Norwalk, Danbury and Trumbull locations. As an additional service, RMACT has partnered with Mandell's Pharmacy, whose Spanish-speaking pharmacists and fertility coordinators are available to help patients with their infertility medications in their primary language.
"It is important for every patient to feel comfortable and confident with their infertility treatment plan," says Dr. Williams, a fertility expert at RMACT. "One of the primary goals is to empower Hispanic patients to learn about their diagnosis, treatment plan and medications in a language they are comfortable with."
As an additional resource, RMACT's website is fully translated into Spanish by clicking on the Spanish flag at http://www.rmact.com. Launched in 2013, this website contains over 100 pages of information about infertility, treatments and even a glossary of infertility terms, all written in Spanish. Like RMACT's main website, this website has a section that outlines what new patients can expect during their first visits, including a consultation with a reproductive endocrinologist and diagnostic testing. It also describes a range of treatment options, ranging from non-invasive paths such as nutrition counseling to sophisticated procedures such as vitro fertilization (IVF) and Comprehensive Chromosome Screening (SelectCCS).
About Reproductive Medicine Associates of Connecticut (RMACT)
RMACT specializes in the treatment of infertility, including assisted reproductive technologies (ART) such as intrauterine insemination (IUI), in-vitro fertilization (IVF), and Comprehensive Chromosomal Screening (SelectCCS). RMACT, Fairfield County's largest fertility clinic and egg donation center, is one of 11 leading In Vitro Fertilization (IVF) centers nationwide chosen by In Vitro Sciences to participate in its Centers of Excellence program. RMACT has offices in Norwalk, Danbury, Stamford and Trumbull, and an affiliate New York fertility clinics serving Putnam and Dutchess counties. RMACT also offers infertility treatment financing and support services, such as nutrition counseling, massage therapy, psychological counseling, acupuncture and yoga, through RMACT's Integrated Fertility and Wellness Center.
The RMACT team includes lead physicians Drs. Mark P. Leondires, Spencer S. Richlin and Joshua M. Hurwitz, as well as fertility specialists Drs. Cynthia M. Murdock and Shaun C. Williams. All five physicians are Board-Certified Reproductive Endocrinologists and are members of the American Society for Reproductive Medicine (ASRM), the Society for Assisted Reproductive Technology (SART) and the Fairfield County and Connecticut Medical Societies. Each has received numerous awards, and all five are Castle Connolly "Top Doctors." RMACT's IVF laboratory is accredited by the College of American Pathologists (CAP), and CLIA; other accreditations include the Accreditation Association for Ambulatory Health Care (AAAHC) and the American Institute for Ultrasound in Medicine (AIUM). For more information visit http://www.RMACT.com or find us on Facebook.