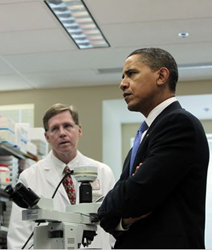 We are thrilled to pay tribute to Dr. Linehan for his endless contributions to VHL research and treatment. We are also honored to have Mr. Rath be part of this celebration
(PRWEB) October 09, 2014
The von Hippel-Lindau (VHL) Alliance is pleased to honor Dr. W. Marston Linehan, Chief of Urologic Surgery and the Urologic Oncology Branch, Center for Cancer Research at the National Cancer Institute. The Fundraising Dinner will take place on October 18th at the Rockville Hilton (http://www.vhl.org/meeting/dinner/2014).
As NCI Urological Oncology Chief, Dr. Linehan has committed his career to advancing VHL and kidney cancer research. To date, he and his colleagues have identified 4 genes including the VHL and clear cell renal carcinoma genes. In addition to his groundbreaking research, Dr. Linehan has defined best practices for clinical management of VHL and other forms of kidney cancer.
Tom Rath, #1 New York Times bestselling author of Eat Move Sleep, StrengthsFinder 2.0, How Full Is Your Bucket?, and Strengths Based Leadership and Former Vice Chair of the VHL Alliance, will be the special guest and speaker at the fundraising dinner. Diagnosed with VHL at the age of 16, Mr. Rath will share his personal story which inspired his latest bestselling book.
"We are thrilled to pay tribute to Dr. Linehan for his endless contributions to VHL research and treatment. We are also honored to have Mr. Rath be part of this celebration," said Karen Ramsey, Chairperson of the VHL Alliance Board of Directors. "Funds raised through this event are essential to the VHL Alliance and our ongoing commitment to educating and supporting those with VHL as we work towards a cure. Current research efforts of the VHL Alliance include the Cancer in Our Genes International Patient Databank (http://www.vhl.org/databank) which will benefit VHL patients, physicians, and researchers as well as those affected with other forms of cancer."
About VHL Alliance (VHLA)
The VHL Alliance (ww.vhl.org), a 510(c)3 non-profit organization founded 1993, is the preeminent resource dedicated to research, education, and support to improve diagnosis, treatment, and quality of life for those affected by VHL. Since the VHL gene is involved in many other forms of cancer, finding a cure for VHL will play a vital role in curing cancer.
For more information about VHL or the VHLA, visit http://www.vhl.org or call 617.277.5667 x4.