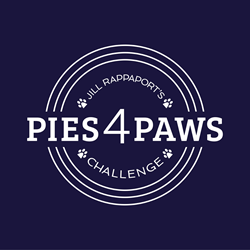 Greenwich, CT (PRWEB) October 07, 2014
Pets Add Life spokesperson, award-winning animal advocate and bestselling author Jill Rappaport who is best-known as a correspondent on NBC, has launched the Pies 4 Paws™ challenge, inviting people across the country to take a pie in the face to raise funds and awareness for shelter and rescue pets. Participants are encouraged to take a pie in the face, donate to a rescue or shelter or adopt a pet, and nominate four other people to do the same. Other celebrities are taking part in the challenge including Robert Redford who has pledged to donate and Meredith Vieira who took a pie in the face and in turn challenged Betty White, Matt Lauer and Howard and Beth Stern.
"Take a pie, donate and adopt, it's the perfect trifecta," said Rappaport. "There are 8 million companion animals living in shelters and more needs to be done for them to find them forever homes. The first time I heard of the Ice Bucket Challenge, I thought, I have to do this for pets in need."
"When we heard this idea from Jill we immediately thought this was an incredible and fun way to do for pets what the Ice Bucket challenge did for ALS," said Bob Vetere, President and CEO of the American Pet Products Association, which promotes responsible pet ownership through its nationwide social cause campaign, Pets Add Life (PAL). "Because this is an opportunity for communities, shelters and rescue groups everywhere to help pets, we knew it was a perfect fit for PAL and will be proudly promoting the campaign through all our channels and resources."
Jill Rappaport's Pies 4 Paws™ challenge was first launched with the American Society for the Prevention of Cruelty to Animals (ASPCA) and has since garnered participation from major national organizations including the Humane Society of the United States (HSUS), the American Humane Association, Pilots N Paws and the nationwide pet insurance provider, PetPlan. It is now spreading through shelters, rescues and pet lovers across the country, including the Southampton Animal Shelter, Pet Haven Rescue (FL), Mainline Animal Recue (PA), Connecticut Humane Society, and the Humane Society of Utah.
"I am overwhelmed with the "pie-ticipation" of all of these wonderful animal organizations and can only hope the campaign continues so that we can raise awareness and save countless lives," said Rappaport. "With October being National Adopt-a-Shelter-Dog Month and heading into the holiday season, it's the perfect time to kick this campaign into high gear and carry it right through the holidays when shelter animals need a loving home most."
Jill Rappaport's Pies 4 Paws™ encourages community based groups, schools, and families to participate, joining Ms. Rappaport and many others to raise funds for animals in crisis. It's easy to do – simply get a group together, get a few pies, and let the fun begin! Be sure to take photos and upload them to social media with the hashtag #JillRappaportsPies4Paws and then make a donation to the shelter or rescue group of your choice. Then challenge your friends to do the same.
Rappaport is the recipient of numerous national honors and awards for her work on behalf of animal welfare. She was named the ASPCA Good Will Equine Welfare Ambassador and received the coveted Presidential Service Award for Media Excellence at the 2012 ASPCA Humane Awards. She was the recipient of three coveted Genesis Awards from the Humane Society of The United States and received the 2012 Global Pet Expo's annual "Excellence in Journalism and Outstanding Contributions to the Pet Industry Award" from the American Pet Products Association whose past recipients include Ellen DeGeneres and Rachael Ray. Early next year she will launch her much-anticipated "Best in Shelter with Jill Rappaport" primetime show, of which she is the creator, executive producer and host; she promises it is going to be "Westminster for shelter pets and a game-changer for animals in need."
Founded by the American Pet Products Association (APPA), Pets Add Life (PAL) is a nonprofit campaign dedicated to sharing information about how pet ownership benefits animals and people alike. PAL's mission is to increase awareness of the bonds and other rewards associated with pets of all types. Primarily through social media with YouTube Videos, an active Facebook campaign, celebrity endorsements and contests, PAL spreads the joys of pets, encourages pet adoption and promotes responsible pet ownership.
-###-
The American Pet Products Association (APPA) is the leading not-for-profit trade association serving the interests of the pet products industry since 1958. APPA membership includes more than 1,100 pet product manufacturers, their representatives, importers and livestock suppliers representing both large corporations and growing business enterprises. APPA's mission is to promote, develop and advance pet ownership and the pet product industry and to provide the services necessary to help its members prosper. Visit http://www.americanpetproducts.org for more information.