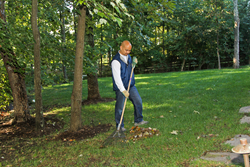 "We have had warmer than normal winters lately, so people got used to not going the extra mile to protect plants and trees for winter," said Nikos Phelps, PLANET member and president, Utopian Landscapes in Harrisburg, Pennsylvania.
Herndon, Va. (PRWEB) October 09, 2014
Last year's long cold winter took many people in the East by surprise and resulted in damage to otherwise healthy plants, trees and shrubs. With the Farmer's Almanac predicting another extremely cold winter, landscape experts from the Professional Landcare Network (PLANET), the national landscape and lawn care association, offer advice to homeowners who want to protect trees and shrubs from damage.
"A lot of homeowners were taken by surprise by our cold harsh winter last year," said Nikos Phelps, PLANET member and president, Utopian Landscapes in Harrisburg, Pennsylvania. "We had warmer than normal winters for the past 10–15 years, so people got used to not having to go the extra mile to protect plants and trees for a harder winter."
Cold winds, frigid temperatures, and dry air can damage otherwise healthy plants. Many home owners invest hundreds, and even thousands of dollars into the purchase of plants. To protect that investment and avoid costly replacements next year, landscape experts from PLANET offer the top five strategies that homeowners should consider to protect trees and shrubs this winter.
Water deeply in late fall. Many people think their plants don't need water in the winter or they assume snow melt will provide enough hydration. Plants do need to have access to water in the soil during winter. Watering deeply in late fall before the first frost will help ensure that they have access to water after the ground freezes.
Wrap plants or smaller trees. Many plant varieties like roses, butterfly bushes, hydrangeas, and crape myrtles experienced damage last winter. To provide plants with extra protection from the wind and cold, wrap them in burlap or a frost protection fabric and plant them along a building or fence that offers some wind protection. Dead leaves can also be stuffed inside and around the branches and at the base to add extra insulation.
Don't fertilize trees and shrubs in fall. Plants need to slow down their growth in the fall to ensure they harden off and prepare for winter. In general, homeowners should stop giving fertilizer to plants well before the first freeze. Homeowners should always follow the local municipal rules for fertilization. Some locations regulate the time of year that fertilizer can be applied.
Don't prune plants in late fall. Pruning can encourage new growth, so it is generally not a good idea to prune most plant varieties as winter nears because the cuts may not have time to heal before it freezes.
Apply anti-desiccant or anti-transpirant to protect trees. Many tree care or landscape companies can apply anti-desiccants to trees to help protect them during the winter. It coats the trees and can help shield them from cold winds and dry air if applied as the manufacturer recommends.
"It is also important that people plant trees and bushes in good locations where they have protection from the elements," said Phelps. "Plants like crape myrtles do well when planted in a sunny, wind- protected area. A south-facing wall of the house works well."
For more ideas about how to care for you landscape or for more information about hiring a landscape professional near you visit http://www.loveyourlandscape.com.
ABOUT PLANET
PLANET is the national trade association representing more than 100,000 landscape industry professionals, who create and maintain healthy, green living spaces for communities across America. PLANET members are committed to the highest standards in industry education, best practices and business professionalism. Many of PLANET's professionals have attained the status of becoming Landscape Industry Certified, achieving the greatest level of industry expertise and knowledge. Visit PLANET at http://www.landcarenetwork.org.