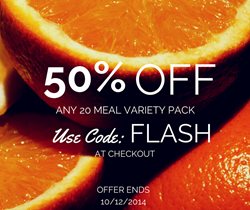 Upland, California (PRWEB) October 07, 2014
World Gardens Café announced today that they are offering 50% off their 20 meal variety packs until this Sunday, October 12th, 2014! "Everyone gets a chance to try our food! There is no excuse to not eat a healthy meal every day especially with this killer deal! With the holidays around the corner it is hard to focus on what matters most-your health. That is why we created the sale," Chef Ravi, owner of WGC expressed.
The flash sale will give 50% off ANY 20 meal variety packs with the coupon code: FLASH. Whether you are living a busy life, trying to lose weight before the holidays, or want to just eat good clean food, WGC has you covered.
This flash sale only lasts until October 12, 2014. Stop making excuses and start eating healthy today. The 20 meal variety packs can be found here.
About World Gardens Cafe:
World Gardens Café's mission is to create a healthier world by providing quick, healthy alternatives to fast food. Their food helps people of all ages and dietary needs live longer, healthier lives. As the premier provider of home-delivered, fully prepared, healthy gourmet cuisine, World Garden's Cafe specializes in providing gluten-free frozen meals to clients in California, Arizona, Nevada and Utah. The delicious and flavorful meals are prepared by celebrity Chef Ravi and are then carefully packaged, frozen, and delivered to consumers' homes. Customers can purchase food online or via phone, and have the convenient option of delivery or local pickup at Foothill Kitchens which is located at 360 W. Foothill Blvd, in Upland, CA.
For more information visit http://www.worldgardenscafe.com, like WGC on Facebook and Follow WGC on Twitter.