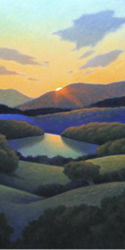 Big Canoe, Georgia (PRWEB) October 08, 2014
Big Canoe, Atlanta's nearby mountain community prized for the breathtaking natural beauty of it's 8,000 acres, is presenting the equally spectacular work of 14 master craftsmen in a fall showing open Thursday through Sundays from October 23rd to November 2nd 10 AM to 4 PM. On display and offered for sale will be the works of glass masters, potters, painters, sculptors, photographers, furniture makers and quilters to name a few. With many of the exhibiting artists already in permanent collections, and others well on their way, it is not surprising, as show organizer Ann Young points out, that, "each was chosen for the skill and ingenuity displayed by his or her unique art form in reflecting the world around us."
This special showing, will be presented in a Custom Home by THE BIG CANOE BUILDING GROUP in the artful and rustic neighborhood "The Bluffs." Here is an opportunity to discover the many remarkable homes in Big Canoe while enjoying our fall foliage in the mountains-- there are seven with elevations to 3,200 feet their long lush views and more than 2,000 acres of accessible green space.
Big Canoe is located a scenic hour from Atlanta. For directions and more information, call Big Canoe Realty at 770-893-2733,
1-866-244-2266 or visit at http://www.bigcanoe.com.
There is no admission charge.