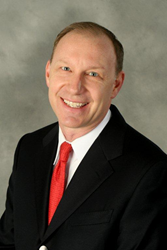 Falls Church, VA (PRWEB) October 07, 2014
Dr. William V. Dougherty, III honors Dental Hygiene Month in October by seeking to inform the public about the many potential dangers of ignoring dental issues, including those relating to periodontal disease. Through his dental office in Falls Church, VA, Dr. Dougherty offers a number of treatment options, including a gum disease treatment known as the LANAP® laser protocol. This particular treatment is a minimally invasive option that does not require Dr. Dougherty to use a scalpel or sutures to effectively treat gum disease.
The LANAP® protocol takes advantage of the PerioLase® MVP-7™, which allows the doctor to specifically target the harmful bacteria beneath the gum line without causing damage to the healthy gum tissue. Due to the fact that there is no need for the doctor to use a scalpel or sutures, this gum disease treatment reduces the amount of recovery time necessary and is considered minimally invasive. LANAP® treatment is available through Dr. Dougherty's dental office in Falls Church, VA, enabling sufferers of gum disease a viable treatment option that also helps to save teeth which may be at risk of loss due to this oral infection.
Gum disease is a very prevalent issue in the United States, as statistics provided by the Centers for Disease Control (CDC) indicate that 47.1 percent of all American adults are currently enduring some form of the disease. Despite the widespread nature of the issue, many gum disease sufferers neglect to seek treatment in a timely fashion. This is a cause for concern, as gum disease has not only been linked to tooth loss, it has also been associated with very serious medical conditions such as diabetes, heart disease, and cancer in a number of recently released studies.
Individuals who are seeking a minimally invasive gum disease treatment should contact Dr. Dougherty's dental office in Falls Church, VA to schedule an appointment for a consultation. The doctor will be able to provide detailed information with regard to the nature of the LANAP® protocol and will also be able to determine each individual patient's eligibility for the procedure. It may also be necessary to discuss any additional options that exist with respect to available treatment options.
About the Doctor
William V. Dougherty, III, DDS is a general dentist offering patients personalized dental care in Falls Church, VA. He is part of one percent of dental professionals providing the LANAP® FDA cleared laser procedure for gum disease and periodontal treatment. To learn more about William V. Dougherty, III, DDS and his dental services, visit his website at http://www.doughertylaserdentistry.com and call (703) 584-7554.