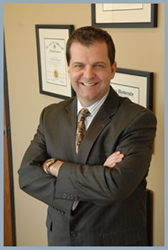 Burr Ridge, IL (PRWEB) October 07, 2014
Dr. Paul Denemark of Denemark Periodontal Specialists celebrates Dental Hygiene Month by seeking to inform the public about the many risks associated with allowing gum disease to go untreated. Offering a wide variety of treatment options for dental care in Burr Ridge, IL, Dr. Denemark is able to utilize the LANAP® laser protocol, which is a minimally invasive treatment for patients suffering from periodontal disease. Throughout the course of the procedure, there is no need for the doctor to utilize a scalpel or sutures, something that might be very appealing to patients who may have otherwise been hesitant to seek dental care.
The issue of gum disease is alarmingly prevalent in the United States, as the Centers for Disease Control and Prevention (CDC) have released figures indicating that 47.1 percent of all American adults suffer from some form of the disease. Many of these sufferers do not seek dental care in Burr Ridge, IL or anyplace else, and it is not unreasonable to speculate that this hesitancy may be caused by the prospect of undergoing an invasive procedure that will require a period of recovery. Through LANAP® treatment, however, this is not necessary.
The LANAP® laser protocol enables gum disease to be treated without any need for a scalpel or sutures, making the process minimally invasive. The doctor instead utilizes the PerioLase® MVP-7™, which targets only the harmful bacteria residing under the gum line. This fact reduces the recovery time necessary and allows periodontal disease to be treated in a manner that may be much more palatable to prospective patients. This is an important development, especially when one considers the fact that there have been a number of studies linking the presence of periodontal disease to serious medical conditions such as cardiovascular disease, some forms of cancer, and stroke.
Those who are seeking dental care in Burr Ridge, IL or who are interested in learning more about the LANAP® laser protocol and other treatment options available through Denemark Periodontal Specialists should contact the doctor's office to schedule an appointment for a consultation. Dr. Denemark will then be able to determine the most appropriate treatment option available based on the individual needs of each patient.
About the Doctor
Denemark Periodontal Specialists is a periodontal practice providing personalized dental care for patients in Burr Ridge, IL. Dr. Paul Denemark received his Doctorate of Dental Surgery from the University of Illinois, College of Dentistry. He was a general dentist for six years prior to returning to school at Indiana University School of Dentistry to earn his Master of Science in Dentistry degree and research qualified certificate in Periodontics. Because of his expertise in dental anatomy, he was appointed as a Deputy Coroner for DuPage County, Illinois. He previously held the position of Clinical Periodontics instructor at the University of Illinois at Chicago, College of Dentistry. Dr. Denemark belongs to the one percent of dental professionals currently providing the LANAP® laser protocol, the first FDA-cleared laser procedure for gum disease and periodontal treatment. To learn more about the dental services available at Denemark Periodontal Specialists, please visit http://www.drdenemark.com or call (630) 297-4999.