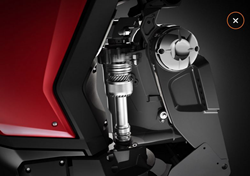 We were already recognized by BRP for our innovation, our significant capacity and our precise, high quality production standards.
Sherbrooke, Quebec, Canada (PRWEB) October 08, 2014
Usinatech Inc. founding partner and Vice President Daniel Pelletier today announced his company's participation in the new Evinrude TM E-TEC G2 outboard engine program. According to Pelletier, Usinatech is now manufacturing and shipping a steady stream of high precision gears and shafts for the Evinrude G2's Dynamic Power Steering and Trim Systems from its plants in Melbourne, Quebec.
With their innovative 'first-in-industry' design, BRP Evinrude engineers placed steering and trim mechanisms inside the midsection of their G2 engine - so there are no external hydraulic trim or steering hoses, cylinders, rods or fixtures to take up space in the boat's transom. As well as a much cleaner look, fewer parts are exposed to damage by water and impact and performance reports show the G2 system delivers superior handling with better control in tight turns.
In the works for almost three years, the design and development of the E-TEC G2's 'hydraulic helix' steering and trim components posed manufacturing challenges that required Usinatech's entire parts production skill-set to overcome. These included working with special alloys, cutting complex gears with demanding tolerances, and delivering major shipments frequently, regularly and Just In Time to BRP Evinrude's assembly plant in Sturtevant, Wisconsin. Usinatech's strength in all of these areas was a major factor in its consideration for the Evinrude G2 program by BRP.
The new E-TEC G2 was unveiled on June 13, 2014 during Club Evinrude in Milwaukee, Wisconsin, USA. More than 2,000 dealers, boat builders, international distributors, media and BRP employees joined BRP Evinrude executives at the global reveal of the E-TEC G2. The G2 is BRP's s first complete outboard redesign since acquiring the Evinrude brand in 2001.
"When BRP started up the Evinrude G2 program some time ago, we were hopeful they would ask us to participate in their innovative program." Says Pelletier. "We had been producing impellers and other critical marine parts for their Sea-DoosTM for over twenty years, and were already recognized by BRP for our innovation, our significant capacity and our precise, high quality production standards. So now we're really thrilled at the chance to prove ourselves on the G2 program."
Evinrude, Sea-Doo and BRP are trademarks of Bombardier Recreational Products Inc. or its affiliates.
###
Usinatech specializes in high volume, high precision CNC machined parts for North American automotive, sports and marine recreational vehicle, mass transit, agricultural machinery and heavy equipment clients. With particular strengths in power transmission components, Usinatech has Canadian headquarters and main operations in Melbourne, Quebec, and Mexican operations in Ramos Arizpe, Coahuila. Usinatech gears, shafts and power transmission components can be found the products of world-leading brands such as Corvette, Jeep, BRP, Kawasaki, Maserati and John Deere. These demanding clients rely on Usinatech for making the highest quality parts, delivered on time and on budget, year after year. Precisely.
FOR MORE INFORMATION. PLEASE CONTACT US:
MEDIA INQUIRIES:
Davis Gravelsins
Marketing Communications
davis.gravelsins@usinatech.com
416-706-7669
BUSINESS INQUIRIES:
Christian Grégoire
cgregoire@usinatech.com
 (819) 826-3774