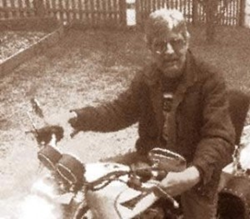 Atlanta, GA (PRWEB) October 08, 2014
Eli Just is a blues-rockin' supernatural novelist who recently recorded "Songs from the Manny Jones Series of Supernatural Thrillers, Vol. II." Just's music is now paired with video and has a new home on a recently created YouTube channel, http://www.youtube.com/channel/UCzwcsAnrIsB62F3tOQ7Ajtg.
The music is the soundtrack for the life and times of the protagonist in his novels, Manny Jones, a hapless blues-rock musician who leads a colorful life playing venues in southeastern U.S. city. The Manny Jones series explores the supernatural and mystery genres.
When Jones is finished with his gigs and has had his fill of whiskey and women, he takes off in his truck (or a Harley, later in the series) and escapes to The Place, a mountain hideaway where he can relax. It's there that strange, supernatural things start to happen, kicking off the plot of the series. Jones is a reflection of Just, a blues-rockin' supernatural novelist who anchors his life in his Christian faith.
"There are more ways than one to be a good Christian, to live an interesting lifestyle and to tell an interesting story, and since I'm a blues-rockin' supernatural novelist, I figured I'd be the best person to add a soundtrack to the Manny Jones story," says Just, who is expanding the Manny Jones universe with a graphic comic book, currently in the creative process.
Just's YouTube channel continues to grow and includes videos of his songs "Filthy Rags" and "Mardi Gras Time," which he calls "a little trip down Bourbon Street in this ode to the City of New Orleans and Mardi Gras."
"As a student of physics who taught the subject in high school, a student of the Bible and a guy who has lived the blues-rockin' lifestyle for decades, the life of the mind, spirit and earthly pursuits have been a heck of a ride," Just says. "And it's made even better with a Harley."
About Eli Just
Eli Just is the author of several books, including the popular "Manny Jones" series and "The Eddy," (http://www.elijust.net). He has a master's in history from Southeastern Louisiana University and is a self-taught student of physics, which he taught at the high school level. He is currently working on several projects, including his newest novel, a graphic comic book and a rock-blues album. As a Christian, Just enjoys exploring themes involving physics and its relationship to religion. He lives in northern Georgia.