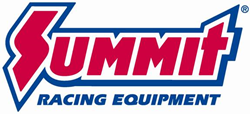 Tallmadge, OH (PRWEB) October 08, 2014
Super Summit, Summit Racing Equipment's annual car show and manufacturer showcase traditionally held at the company's Tallmadge, Ohio facility, is making a major move. Super Summit 2015 will be held at Summit Racing Equipment Motorsports Park in Norwalk, Ohio on Friday, June 5 and Saturday, June 6, 2015.
"Having Super Summit at Summit Racing Motorsports Park is a major step up," said Jim Greenleaf, Summit Racing's Motorsports and Events Manager. "The facility is one of the nicest, best-run tracks in the country. Having our event there will mean more paved parking for the car show, more space for manufacturer displays, more parking areas for spectators, and more things to see and do."
Super Summit 2015 will feature a free car show that is open to all vehicles--musclecars, street rods, classic vehicles, trucks and SUVs, off-roaders, and motorcycles--plus a manufacturers midway with hundreds of manufacturer displays showcasing the latest parts and accessories. Admission is free for participants and spectators.
Super Summit 2015 is still in the planning stages, but Greenleaf said that the BIGFOOT monster truck team will be attending as part of the BIGFOOT 40th Anniversary Tour. Super Summit 2015 attendees will be able to make "fun runs" down Summit Racing Motorsport Park's quarter-mile drag strip and participate in an autocross competition.
"Summit Racing Motorsports Park is easy to get to from most anywhere in Northern Ohio, and the location will allow us to attract more participants from Michigan, Indiana, and other parts of the Midwest," Greenleaf continued. "It will be a win-win for everyone."
Summit Racing will issue updates on Super Summit 2015 as details become finalized.
Summit Racing Equipment
http://www.SummitRacing.com
1-800-230-3030