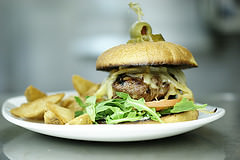 Burgers and beer are synonymous with our Pub, so we wanted to create a unique, fun and tasty menu that featured the best local ingredients we could find
Austin, Texas (PRWEB) October 07, 2014
Each week in October, Fadó Irish Pub, located in the Warehouse District, will give customers a new burger and beer pairing, elevating the weekend burger experience. The Hopped Up Burger Menu offers burger lovers four grass-fed beef burgers, four local craft beers and four solid reasons to hit up Austin's favorite Irish Pub in October. And, starting Friday, October 10, Fadó will give customers 2 days or 24 chances, whichever comes first, to enjoy made from scratch grass-fed burgers and locally-made buns. There are only 24 burgers prepared each weekend and only offered on Friday and Saturday. In addition to pairing in the bundle offer, the featured local craft beer of the week is incorporated into the recipe.
"Burgers and beer are synonymous with our Pub, so we wanted to create a unique, fun and tasty menu that featured the best local ingredients we could find" explains general manager John O'Brien. "And with these delicious burgers, made with Austin's best craft brews and served on locally made buns, I believe we've done just that."
Burgers are prepared each weekend and paired with a featured beer of the week, a fresh-baked Moonlight Bakery brioche bun and served with one side item such as Fadó chips. The cost of the burger and beer bundle is $14.95
http:// The "Hopped Up Burger Menu" in October
Friday, October 10th - Saturday, October 11th
"Dr Peppers" ~ made with American grass-fed beef, 512 IPA caramelized onions, roasted jalapenos and Serrano peppers, topped with Three Chili Pepper Gouda and paired with 512 IPA
Friday, October 17th - Saturday, October 18th
"The Tailgater" ~ American grass-fed beef, BBQ sauce and applewood smoked bacon, topped with jalapeno Havarti and Shiner Beer Battered Onion Rings and paired with Shiner
Friday, October 24th - Saturday, October 25th
"Hair of the Dog" ~ American grass-fed beef, arugula, vine ripe tomatoes, rashers (Irish bacon) and eggs, topped with Habarnero cheddar and paired with Zoe Pale Ale
Friday, October 31st - Saturday, November 1st
"Float Your Goat" ~ American grass-fed beef, Thirsty Goat beer mustard, sautéed field mushrooms, topped with organic garlic and herb goat cheese and paired with Thirsty Goat Amber Ale.
Book a dinner reservation at Fadó Irish Pub on Open Table.
About Fadó Irish Pub -
Fadó (pronounced fuh-doe) Irish Pub, located at 214 W 4th street in the Warehouse District of Austin, was the first Irish pub to be designed and constructed in Ireland and shipped and installed in Austin in 2000. Fadó is distinguished by its genuine Irish hospitality, quality of its pints and craic (pronounced 'crack', a uniquely Irish form of fun). Fadó has been voted 'Best Of' by a number of local and national publications and is a favorite of International, US, and MLS soccer fans. Fadó is a proud member of the Official US Soccer Bar program and is the city's go-to spot for English Premier League, USA Men's, Champions League, La Liga, Serie A, Scottish Premier League, World Cup and much more. Get in on the conversation on the pub Facebook page facebook.com/fadoaustin or by following Fadó on Twitter @fadoaustin and Instagram @fadoirishpub