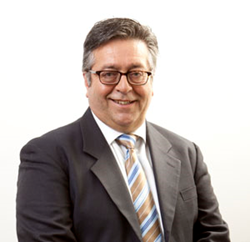 Mexico City, Mexico (PRWEB) October 09, 2014
Turner International is pleased to announce that Arturo Taboada has joined the company as vice president and regional manager of the company's Latin America and the Caribbean (LAC) region. Arturo reports to Abrar Sheriff, president and CEO of Turner International.
Based in Mexico City, Arturo will oversee Turner's LAC business and will build on the strength the company has established in the region. Arturo brings 30 years of experience in the US and Mexico to his new leadership role.
He has a strong background in architecture, planning, and construction management working on commercial, institutional and other public sector buildings. Arturo served in business development and as a project manager for Turner before founding his own consulting company, ALMA Strategies, in 2009.
Arturo holds a Master of Architecture & Planning from UC Berkeley, and an MBA from UC Berkeley's Haas School of Business with a focus on real estate development and finance.
About Turner International's Latin America and the Caribbean Office
Turner has worked in Latin America and the Caribbean since 1982, offering the resources and experience of a multi-national organization as well as local industry knowledge. Local operations are based out of Mexico City, where Turner International is currently managing the construction of the BBVA Bancomer Tower.
About Turner Construction Company
Turner is a North America-based, international construction services company. Founded in 1902, Turner first made its mark on the industry pioneering the use of steel-reinforced concrete for general building, which enabled the company to deliver safer, stronger, and more efficient buildings to clients. The company continues to embrace emerging technologies and offers an increasingly diverse set of services. With an annual construction volume of $9 billion, Turner is the largest builder in the United States, ranking first in the major market segments of the building construction field, including healthcare, education, sports, commercial, and green building. The firm is a subsidiary of HOCHTIEF, one of the world's leading international construction service providers. For more information please visit http://www.turnerconstruction.com.
About HOCHTIEF
HOCHTIEF is one of the most international construction groups worldwide. The company delivers complex infrastructure projects, in some cases on the basis of concession models. The Group operates in the transportation infrastructure, energy infrastructure and social/urban infrastructure segments as well as in the contract mining business. With nearly 81,000 employees and a sales volume of more than EUR 25 billion in FY 2013, HOCHTIEF is represented in all the world's major markets. With its subsidiary Leighton, the Group is market leader in Australia. In the USA, the biggest construction market in the world, HOCHTIEF is the No. 1 general builder via its subsidiary Turner and, with Group company Flatiron, ranks among the most important players in the field of transportation infrastructure construction. Because of its engagement for sustainability, HOCHTIEF has been listed in the Dow Jones Sustainability Indexes since 2006. Further information is available at http://www.hochtief.com/press.