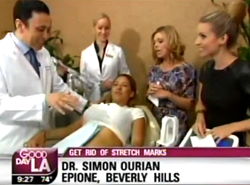 Los Angeles, CA (PRWEB) October 07, 2014
On October 7, 2014, the Wall Street Journal published an article titled "Can Micro-Needling Improve the Appearance of Wrinkles and Acne Scars?" that describes the treatment proponents claim can improve the appearance of scars and wrinkles. The theory behind micro-needling is that the device's tiny needle pricks stimulate the growth of collagen, one of the body's natural healing processes. Though some micro-needling devices are available for purchase to the general public, experts quoted in the article warn consumers to be aware of the risk of scarring and infection. (see: goo.gl/jciH8r)
"I've done some preliminary investigation of micro-needling and I'm not yet convinced of its efficacy," says Dr. Ourian, Medical Director of Epione Beverly Hills. "We treat wrinkles and acne scars every day and I find that laser resurfacing combined with dermal filler injections offers better results."
According to the Wall Street Journal article, micro-needling may help smooth wrinkles around the eyes and on the upper lip. During the treatment there may be bleeding and post-treatment swelling is expected but can be treated with ice. Professional grade models include an Israeli-made version that incorporates heat producing radio-frequency technology to further boost the production of collagen.
"I concur with the warnings offered by the physicians quoted in the article in that consumers should be very cautious when trying one of the at-home micro-needling devices," says Dr. Ourian. "The last thing anyone would want is to injure already damaged skin."
Dr. Ourian has been a pioneer in laser technology and non-invasive aesthetic procedures including Restylane, Juvéderm, Radiesse, Sculptra, and CoolSculpting. These treatments are used for the correction or reversal of a variety of conditions such as acne, acne scars, skin discoloration, wrinkles, unwanted fat, stretch marks, varicose veins, cellulite, and others. More information about acne scars can be found on Epione's website.