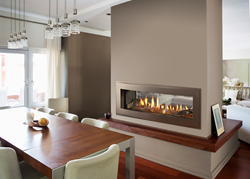 The new Crave was designed to stand the test of time and live up to Heatilator's longtime reputation as the #1 preferred brand by builders. It was created with today's homeowner in mind, and can be easily customized to accommodate personal taste.
Lakeville, Minn. (PRWEB) October 08, 2014
Heatilator, the first name in fireplaces and the #1 preferred brand by builders, is pleased to introduce the Crave series of Direct Vent gas fireplaces, a new linear line that offers a modern look at an affordable price.
The Heatilator Crave fireplace series provides homebuilders and homeowners all of the essentials for a complete contemporary fireplace, along with multiple upgrade options to accent home décor with a personalized look. Designed with popular features – flush-to-wall finish design, full featured remote control functionality and customizable finishes – the new Crave promises to deliver a linear modern fireplace with the quality, durability and efficiency for which the Heatilator brand is known.
"The new Crave was designed to stand the test of time and live up to Heatilator's longtime reputation as the #1 preferred brand by builders," said Randy Wendolek, brand director for Heatilator. "We created this series with today's homeowner in mind, so the Crave can be easily upgraded or customized to accommodate each owner's personal taste."
With a breadth of options to meet various floor plans, the new Heatilator Crave is available in 36, 48, 60, and 72-inch single-sided or see-through models. Key features of the standard model include:

Modern design: Clean face trim provides beautiful flush-to-the-wall finish and luxurious crystal glass along with industry leading end-to-end flame technology.
Safety and control: Heatilator's IntelliFireTM Plus Technology offers on-demand ignition, eliminating the need for a standing pilot light. This feature helps ensure safe operation and can save homeowners up to $10 per month on energy costs.
Powerful heating system: The power of 40,000 BTUs not only looks beautiful, but also performs to heat your home.
Builders and homeowners can also customize their Crave with a variety of optional upgrades that will differentiate the look of the fireplace without breaking the bank. Upgrades include:

Decorative fronts to accent any home's décor.
Fade-resistant black glass liner, which multiplies the flames and adds intensity to the fire.
Illumination through a bed of long-lasting and efficient LED lights that can be adjusted to fit any mood.
Customizable interior, including translucent crushed glass in black, amber, cobalt blue or red for a modern flare or textured logs for a fusion of traditional elements.
All Heatilator products are sold through a large network of hearth professionals in the U.S. and Canada. To find a dealer near you, visit [http://www.heatilator.com/WhereToBuy.aspx
About Heatilator
Heatilator® is known as "the first name in fireplaces," and is the #1 preferred brand by builders – the most widely recognized, preferred and installed brand by builders. The brand owns a rich history and has led the industry in dependability and value for more than 85 years. Heatilator offers a full lineup of hearth products and also features the alternative-fueled Eco-Choice family of products. The company is headquartered in Mount Pleasant, Iowa and is a member of Hearth & Home Technologies, Inc. (HHT). For more information, please visit http://www.Heatilator.com.