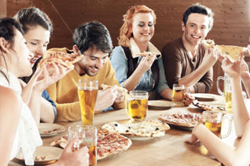 San Francisco, Calif. (PRWEB) October 08, 2014
The leaves are changing, the apples are being picked, the pumpkins are being carved, and – it's National Pizza month. October ushers in a number of fun fall traditions but the yummiest among them is a national celebration of pizza. The team at Viator.com, the leading resource for researching and booking tours and activities worldwide, is highlighting a selection of pizza-perfect insider experiences in the US and Europe to turn any trip into an insider's gastronomic adventure.
Pizza: American-style
This culinary classic may have its roots in Europe, but destinations across the U.S. including Chicago, New York and Boston feature some of the best pizza you can find anywhere. Viator has a selection of tours that take to the local streets to find the best pizza eats, while adding in some surprises like karaoke and Paul Revere!
Chicago

New York
Boston
Back to Pizza's Roots: Europe
When visiting the birthplace of pizza, travelers will have ample opportunity for indulging but also for learning and exploration with cooking classes, Limoncello tasting and a beautiful twilight canal cruise.
For more information on Viator's tours and activities worldwide – as well as the latest deals, promotions, contests and news – visit http://www.viator.com or follow Viator on Facebook (ViatorTours) and Twitter (ViatorTravel).
About Viator
Viator, a TripAdvisor company, is the leading global tours and activities provider for travellers, delivering online and mobile access to thousands of curated trip activities including tours, attractions, shore excursions and private guides, in more than 1,500 destinations worldwide. In-house travel experts work with trusted local operators to ensure the quality and value of every experience, all backed by Viator's 24/7 customer service and global low-price guarantee. With more than 600,000 verified reviews plus exclusive videos and insider travel tips, Viator has everything a traveller needs to find and book the best things to do worldwide. In addition to the flagship site – Viator.com – travellers can book in advance or in-destination via the Viator Tours and Activities App, as well as local-language sites for European, Latin American and Asian travellers. Viator also provides tours and activities to more than 3,000 affiliate partners including some of the world's top airlines, hotels and online travel agencies. Founded in 1995, Viator is headquartered in San Francisco with regional offices in Sydney, London and Las Vegas. Viator – travel with an insider.