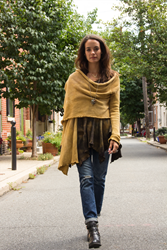 "This is one of my favorite shows to do, the show itself is incredible but the scenery this time of year, paired with all the that goes on in and around the festival, makes it the perfect fall weekend outing." Says Litz
Northampton, MA (PRWEB) October 08, 2014
Steel Pony, the sustainable women's wear brand out of Philadelphia is best known for their bohemian vibe & unique style. This Friday owners, Joanne Litz and Dennis Wolk are packing up their newest pieces for Fall 2014, along with one of a kind wearable art works and heading up to Northampton, Massachusetts, for the 8th year in a row, to exhibit at the prestigious Paradise City Arts Festival.
"People from all over the country submit & only 300 or so are accepted, so the level of artistry is just stunning. We are one of the few fiber people, only one of two dyers, which makes our already unique clothing really stand out from the crowd," explains Litz.
Steel Pony fans and newcomers will be able to peruse multiple racks of styles that are both available to buy online at http://www.steelpony.com or are being revealed for the first time to retail buyers at this event. Inside booth # 511 owner Wolk has created a dressing room area as well as beautiful staging to showcase not only the garments but his line of exotic leather handbags: Journey Bags.
"Our clothing makes people happy. I hear it all the time, which is the best gift! People seek us out at this event and let us know that when they reach into their closets and pull out a Steel Pony piece or grab their Journey Bag - they feel happier," says Litz
This year marks the second decade for the event and The Paradise City Arts Festival is pulling out all the stops. Indulge in foods inspired from around the world and prepared by local Northampton chefs, while listening to local musicians perform. Take part in demonstrations of fine craft, lectures or simply shop the 260 plus vendors. There is a reason why Paradise City is named New England's premier showcase for fine and functional art, as well as "Top 10 Art and Craft Fairs in America" by AmericanStyle Magazine.
Event Schedule
Oct 11-13th Columbus Day Weekend
Saturday & Sunday 10 to 6pm, Monday 10 to 4pm
For More Information on the event and all participating artists, please visit http://www.paradisecityarts.com