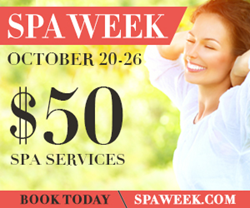 New York, NY (PRWEB) October 09, 2014
Spa Week is back and the buzz is bigger than ever. The Fall 2014 Event marks 10 years of wellness for the iconic brand. From October 20th – 26th, you can experience luxurious spa and wellness treatments (think: therapeutic massages, oxygen facials and acupuncture) for just $50 each. The directory of $50 treatments, now live on spaweek.com, is brimming with services (valued from $100-$500) at some of the country's most exclusive spa and wellness facilities.
Spa Week has solidified its stance as the industry's most successful spa marketing event. It allows consumers to reap the benefits of a full spa experience at an affordable price. In fact, the International Spa Association's 2014 U.S. Spa Industry Study recently revealed that the total number of spa visits in the past year climbed to 164 million, an all-time high. This groundbreaking number shows that today's consumer has more access to the spa and wellness lifestyle than ever before - a lifestyle that is proven to better one's overall health and well-being.
As we mark ten years of Spa Week®, hundreds of thousands of consumers are poised to make appointments for the Event. In anticipation, we proudly present the 10 Commandments of Spa Week, our go-to guide to getting the absolute most out of Spa Week this Fall:
1. Thou shall take the vow of wellness. Suffice it to say, wellness is our true forte. And with countless mind and body-focused services to choose, this is one vow you will want to take again and again.
2. Thou shall overindulge on services. At just $50 a pop, Spa Week services are the perfect excuse to get fresh for Fall. That much needed facial sounds great, but why stop there? Spa Week is the perfect time to truly indulge from head to toe, from autumn spice pedicures to peppermint hair masks.
3. Thou shall dedicate ample time to enjoy Spa Week. Carve out the time, because you are worth it. That 90 minute therapeutic massage is just the beginning. This Spa Week, try out several spas, experience something you've never tried, bask in the Hamman, breath in the eucalyptus steam. There are seven south-soothing days ahead.
4. Honor thy esthetician or therapist. Your Spa Week service provider works hard to make sure your $50 experience feels just as blissful as a full-priced one. They are dedicated to their craft, delivering a superior spa and wellness service. You'll want to show them how good you feel, so be sure to tip them on the full price.
5. Thou shall pay it forward. During Spa Week, you are certain to feel centered, and you will surely want your friends to feel the same. There's no better time to give the gift of wellness than during those special seven days. Your $50 treat will be more than just a spa service, you will be fostering that special someone's overall well-being.
6. Thou shall embrace positive changes in your life that make you look and feel better. Motivate yourself to do the things that contribute to your health and wellness. Want to improve your skincare routine or take a core-toning Pilates class? Spa Week is the perfect time.
7. Thou shall leave your cell phones and worries at home. Un-plugging can be a lot harder than unwinding. Consider your Spa Week appointment a chance to reboot your mind, not just your body. You can close your inbox and clear your head. Why not meditate instead?
8. Thou shall schedule strategically. Spa Week services are always in demand. Be sure to plan ahead, so you can fit it all in. Whether it's a long lunch, a late night or a full-fledged staycation, Spa Week is ideal for carving out that much needed "me time."
9. Thou shall always share. Flying solo is fun, but BFF time is a blast. You can elevate your experience by sharing it with someone. Spa Week is the perfect time to schedule a bridal shower or birthday celebration for a soul-centering special event.
10. Thou shall not covet another person's spa treatment. It's easy to put off a spa appointment, especially when it feels like such a splurge. Good thing all services are a steal during Spa Week. Visit our directory on spaweek.com – it's time to start saying "yes" to you.
Returning for the Fall 2014 Event is Exclusive Trade Association Partner: International Spa Association (ISPA). We are pleased to introduce Exclusive Sleep Sponsor: Philip Stein; Exclusive Luxury Sunless Tanning Sponsor: Vita Liberata; Exclusive Fashion Sponsor: HauteLook™ and Exclusive Book Sponsor: Saving Grace by Jane Green (St. Martin's Press). Spa Week is co-sponsored by CEW and a portion of the proceeds from the Spring and Fall Events are donated to CancerAndCareers.org.
About Spa Week Media Group, Ltd.
Spa Week Media Group, Ltd. (http://www.spaweek.com) is the largest and most respected spa and wellness marketing company in the country. Millions of consumers across North America have access to the most comprehensive resources for everything wellness, 365 days a year. Since its inception in 2004, Spa Week has continued to revolutionize the industry with the success of its bi-annual Spring and Fall Events' signature $50 spa services, life-changing promotions, an inspirational lifestyle blog, Spa Week Daily, and influential social media platforms. A true health and wellness finder, Spa Week delivers the best in health and wellness year round with its Spa & Wellness Gift Card, the premier spa gift card of choice by consumers. Accepted at over 8,000 spas and wellness locations across North America and sold in over 52,000 retail stores nationwide including Target, CVS, Rite Aid, BJ's, Walmart, Sam's Club, Walgreens and on SpaWeek.com, it's never been more convenient to give and enjoy the Gift of Wellness. Whether it's learning how to completely revamp one's lifestyle or simply seek motivation, the Spa Week brand remains at the forefront in guiding consumers on the path to living their healthiest and happiest lives possible.
For more information, visit http://www.spaweek.com or contact Tamar Bazin at (212) 352 – 8098 Tamar(at)spaweekmedia(dot)com